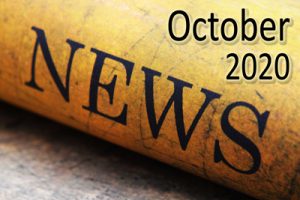 Trump Towers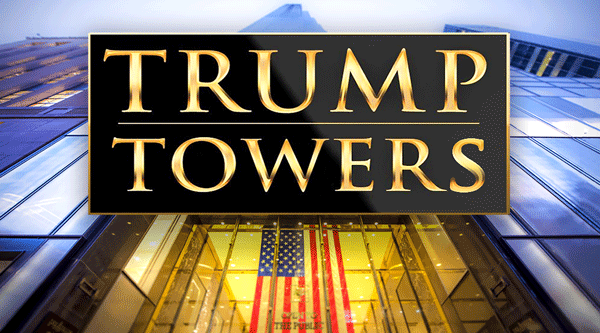 I wrote a newsletter four years ago about why I voted for President Trump. Why don't we stop right there. Four years ago? Are you kidding me? Wow. Time is not just flying by, it is a speeding bullet followed by a rocket ship to the moon with a weaver's shuttle right behind it (Some of you may have to look on YouTube to figure that one out! Look up industrial loom as well).
Job 7:6
My days are swifter than a weaver's shuttle, and are spent without hope.
Psalm 90:4
For a thousand years in thy sight are but as yesterday when it is past, and as a watch in the night.
Psalm 90:12
So teach us to number our days, that we may apply our hearts unto wisdom.
So, what have you accomplished in the last four years that has eternal value? What has been the focus of your life during the last 1460 days? Well, I sure hope it hasn't been politics! Goodness, that pursuit can sure consume any of us.
If you would like to look over that Trump newsletter again, it is called Choo Choo.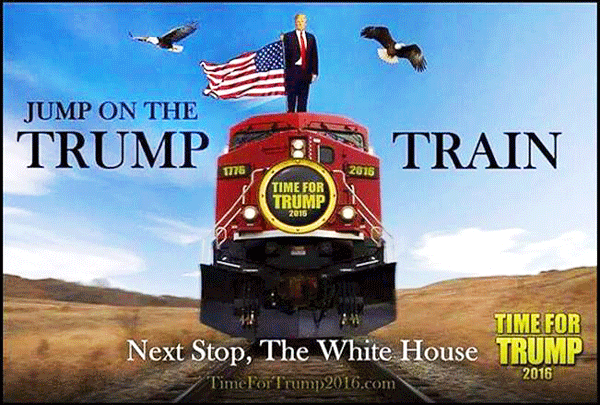 https://markcahill.org/choo-choo/
I thought the choice to vote for Mr. Trump instead of Mrs. Clinton four years ago was one of the easiest decisions I had ever made in my life. But, to be honest, this time around where President Trump is running against Mr. Biden, the decision is even easier.
Casting Your Vote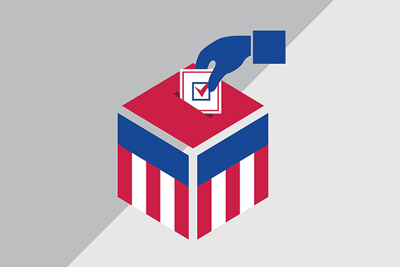 In a letter to the editor of the Quad Cities Times, J. M. Christopher submitted the following under the title, "What I'm Voting For":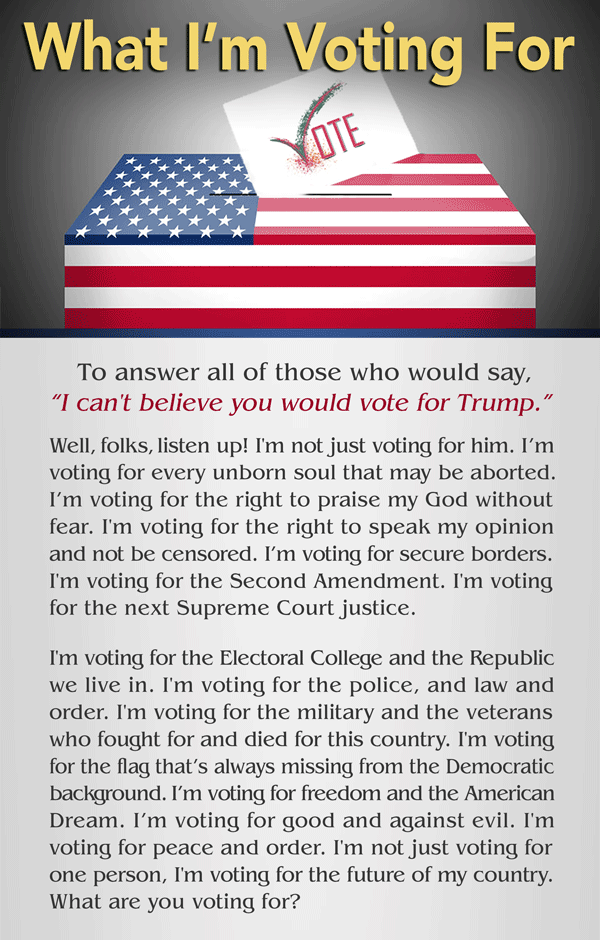 https://qctimes.com/opinion/letters/letter-what-im-voting-for/article_5a1e47ca-65bc-5b50-9bbe-b9396f8b2e7e.html
Whether the topic is abortion, free-speech rights, the right to assemble, freedom of religion, standing for the nuclear family, keeping our Second Amendment rights, upholding law and order, trying to stop the leftist worldview from indoctrinating everything and everyone, or taxes, President Trump is head and shoulders above Mr. Biden on these issues and more.
Also, remember you are voting for a party and not just a person. The platform and agenda of  the Republicans definitely lines up more closely with biblical principles.
If you would like to check on some of the accomplishments of the Trump Administration to see if they have kept their promises to the American public, you can look them up here:
So again, voting in this presidential election seems like one of the easiest decisions I have ever had to make. I will also be voting a straight conservative ticket when I cast my ballot, and that will be a straight Republican ticket, top to bottom.
Power Grab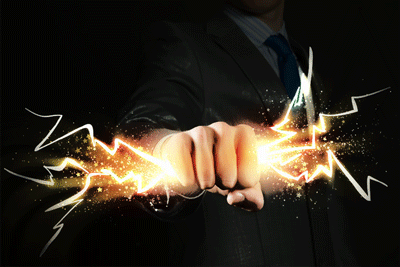 But one other thing that has really bothered me over the last four years is the despicable treatment of President Trump. All data shows that the media has never attacked a president and his family like this current media class has done. They have acted in appalling ways during the last four years, and all because their candidate did not win. It reminds me of a spoiled child who throws a temper tantrum until they get the toy they want. So, should you give that child the toy? Parents, you know the answer to that one, don't you?!
I will try and say this as nicely as I can: These people, who have harbored hurt feelings because their "girl" didn't win and who have rioted, looted, impeached, defamed, and destroyed for four years should never, ever be given power. Never, ever give them the keys to the kingdom. Never, ever let them rule over you. They are drunk with power, and you will not like the mess they will leave behind if they get it back.
When they made up out of whole cloth that Justice Kavanaugh was a gang rapist, all bets were off. They will do anything and everything to get back in power. You and your reputation do not matter one iota to them. If they have to destroy you to achieve their goals, they will.
Hope for America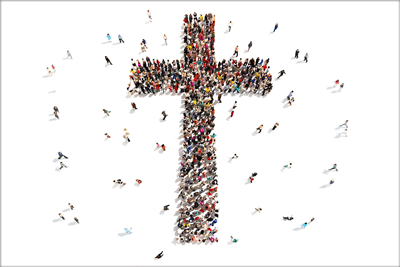 But please, always remember that Mr. Trump is not the hope for America. The Republican Party is not the hope for America. It is very refreshing to have a president who loves this country, but he will never be the answer for what is going on during these days.
1 John 5:13
These things have I written unto you that believe on the name of the Son of God; that ye may know that ye have eternal life, and that ye may believe on the name of the Son of God.
2 Corinthians 4:16-18
For which cause we faint not; but though our outward man perish, yet the inward man is renewed day by day.
For our light affliction, which is but for a moment, worketh for us a far more exceeding and eternal weight of glory;
While we look not at the things which are seen, but at the things which are not seen: for the things which are seen are temporal; but the things which are not seen are eternal.
1 Peter 1:13
Wherefore gird up the loins of your mind, be sober, and hope to the end for the grace that is to be brought unto you at the revelation of Jesus Christ;
Titus 2:13-15
Looking for that blessed hope, and the glorious appearing of the great God and our Saviour Jesus Christ;
Who gave himself for us, that he might redeem us from all iniquity, and purify unto himself a peculiar people, zealous of good works.
These things speak, and exhort, and rebuke with all authority. Let no man despise thee.
Remember, you are a spiritual being who is having an earthly experience. Live that way. Live with Heaven and the throne of God in mind. Spend your time glorifying the Lord Jesus Christ. Never be ashamed of the gospel. As He molds you into the man or woman that He wants you to be, make Him look good. Be a soul winner. That will matter mightily on Judgment Day.
Trump Towers above the competition in this election, but Jesus will always tower above everyone and everything in all of creation and for all of eternity.
Until the Nets are Full,