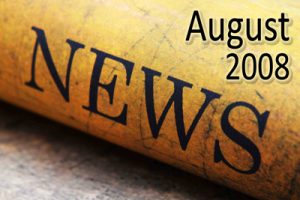 Light or Darkness, Your Choice
There just seems to be so much going on in our world today. The Olympic Games are about to start up again; the political conventions will be starting soon, etc. Didn't we just have the Olympic Games? Didn't America just vote for a President? Time seems to be moving quickly.
Before the Olympics start in Beijing, there is a big event that happens across the world called the torch relay. A flame is lit in Greece and then carried all around the world before being brought to Beijing right before the Olympics start. Then there is an elaborate ceremony during the Opening Ceremonies where they light the main torch for the Olympic Games. They did the same thing in Atlanta when the Olympics were here in 1996.
You may have heard that there have been some problems during this year's torch relay. There have been protesters all along the route. People are protesting the regime in China that has fallen woefully short on human rights, as well as their crackdown with Tibet. So, many of the protesters tried to put out the torch. They would try to extinguish it with water or literally try to block the road attempting to stop the torch from proceeding. There was a group of 30 to 40 Chinese paramilitary security forces that went everywhere the torch went. One article stated, "A source at Scotland Yard said, 'There were here because they came as a part of the package. We made it quite clear that they had no executive powers in Britain. They were here to maintain the flame. Their responsibility is to look after the flame and to make sure nothing happens to it. They are there to protect the flame.'"
In London, they had over 2,000 Metropolitan Police protecting the torch. In Paris they had over 3,000 people protecting the torch. One country even said they used all of that protection because they were treating the torch like a head of state! Why is this Olympic flame supposedly so important?
Here is something you may not know: that torch you saw running around each time was not the real flame. That flame was kept in a lantern, on a bus in each city. That way if they torch ever went out, which it did more than once on the route in front of the public, they could say that they were able to keep the flame going all the way from Greece to China. There was a deception going on, and most people didn't even know it.
But you see we also live in a world that does not want the light as well.
John 1:5 says,
"And the light shineth in darkness; and the darkness comprehended it not."
John 3:19,20 states,
"And this is the condemnation, that light is come into the world, and men loved darkness rather than light, because their deeds were evil. For every one that doeth evil hateth the light, neither cometh to the light, lest his deeds should be reproved."
This world we live in does not want the light of Jesus Christ. We want to live in darkness. Our local, state, and federal governments don't want to recognize God anymore except for the cursory "God Bless America" at the end of their speeches.
Psalm 9:17 says,
"The wicked shall be turned into hell, and all the nations that forget God."
Do you really think that God is going to bless America with all of the wickedness that we do? We should be thankful that God hasn't already destroyed America for its sin. It is by His grace alone that He is giving us time to repent and to serve Him wholeheartedly.
We continue to chase after things that do not glorify the Lord. We chase after dollar bills that we can spend on ourselves. We chase after the pleasing of men when it won't matter on judgment day. We chase after dreams that will all turn to ashes when it is said and done.
What do Olympians chase after? They chase after medals. They all want to win that medal. Silver and bronze are nice, but they really want that gold medal. It will be the crowning achievement of their career. When I have had the chance to talk with some Olympic athletes, it was so interesting to hear and see their drive to get that medal.
I have been able to see a gold medal, a silver medal, and a bronze medal, and I have to be honest. I was a little disappointed! I don't know what I was expecting. I don't know if I was expecting some big rapper's medal or what; but what I saw, didn't move me a whole lot. In Atlanta, when athletes won a medal, they would walk around town with it so everyone could see it, come up and touch it if they wanted, and then take pictures with the person.
But there is something about the medals that you might not know. The medals for the Beijing Olympics have a god on them. Yes, you guessed it, the Olympics are much more spiritual than you probably ever dreamed. They have the winged goddess of victory, Nike, on them. Because to the victor go the spoils. Victory seems to be everything in our culture. Is winning at all costs really worth it in the long run?
John 8:12 says,
"Then spake Jesus again unto them, saying, I am the light of the world: he that followeth me shall not walk in darkness, but shall have the light of life."
John 12:35, 36 states,
"Then Jesus said unto them, Yet a little while is the light with you. Walk while ye have the light, lest darkness come upon you: for he that walketh in darkness knoweth not whither he goeth. While ye have light, believe in the light, that ye may be the children of light. These things spake Jesus, and departed, and did hide himself from them."
And John 12:46 says,
"I am come a light into the world, that whosoever believeth on me should not abide in darkness."
Life is really much simpler than we make it out to be. We can either choose darkness or we can choose the light of the Lord Jesus Christ. We can choose the world or God, Satan or Jesus Christ.
There is a lot going on in our world this month and in the coming days. Will we spend more of our time watching the Olympics, following every detail of the presidential race, or will we decide to spend our time on what is pleasing to the Most High God? Remember to choose things in this life that will be well rewarded when you die. Don't spend your time chasing medals, money, and the wind. These will lead to an unpleasing life here, as well as when it is judged by the Lord.
Until the nets are full,