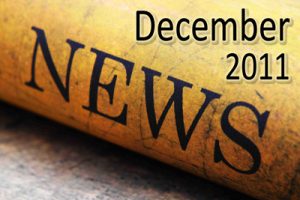 Tidings x Three
One thing we all like is good news. As a matter of fact, we all love good news! One of the fun things about the Thanksgiving and Christmas seasons is spending time with family and friends, and sharing stories of good news that have happened in our lives. And we as Christians know that good news has been around for many thousands of years!
Luke 2:10-14
"And the angel said unto them, Fear not: for, behold, I bring you good tidings of great joy, which shall be to all people. For unto you is born this day in the city of David a Saviour, which is Christ the Lord. And this shall be a sign unto you; Ye shall find the babe wrapped in swaddling clothes, lying in a manger. And suddenly there was with the angel a multitude of the heavenly host praising God, and saying, Glory to God in the highest, and on earth peace, good will toward men."
The King James Version of the Bible calls good news 'tidings.' When the Savior of the world was born, it was good news for the whole world! Forgiveness for every single person for every single sin is now available through the blood of Jesus Christ! Hallelujah!!
Romans 10:9-15
"That if thou shalt confess with thy mouth the Lord Jesus, and shalt believe in thine heart that God hath raised him from the dead, thou shalt be saved. For with the heart man believeth unto righteousness; and with the mouth confession is made unto salvation. For the scripture saith, Whosoever believeth on him shall not be ashamed. For there is no difference between the Jew and the Greek: for the same Lord over all is rich unto all that call upon him. For whosoever shall call upon the name of the Lord shall be saved. How then shall they call on him in whom they have not believed? and how shall they believe in him of whom they have not heard? and how shall they hear without a preacher? And how shall they preach, except they be sent? as it is written, How beautiful are the feet of them that preach the gospel of peace, and bring glad tidings of good things!"
You see, it is our responsibility to confess and believe. It is what God has commanded us to do if we want to follow Him. And now, He gives even more good news: He gives us the opportunity to preach the good news of the gospel of peace to a lost and dying world! It was such a joy today as I was driving out of my neighborhood heading to church when a man walked in front of my car. I rolled down the window and asked, 'Do you like to read?' He said yes and walked over to the car. Stanford ended up telling me that 'you people' (meaning us folks who were going to our churches on Sunday!) call God by one name, others call him by another, but it is all the same. Well, he was a little off with that thought. He then said since Jesus died for everyone's sins, then everyone will be okay with Him when they die. Well again, he was a little off with his thinking. As I am sure you are guessing by now, yes, I was a little late arriving for church! What a joy it was to bring Stanford the good news this morning! He is also a carpenter (imagine that!), who has had business slow down in the colder days, so I got the chance to bless him financially as well. It was a morning full of good tidings!
2 Corinthians 11:3
"But I fear, lest by any means, as the serpent beguiled Eve through his subtilty, so your minds should be corrupted from the simplicity that is in Christ."
Remember to keep things simple. This was a very simple newsletter this month. There was good news when Jesus was born; there was good news when you got saved; and there is good news when you bring the truth about Jesus to all who need to hear. Make sure you fill up this holiday season with as many glad tidings as you possibly can!!
Until the nets are full,