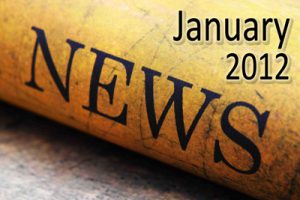 20/20 Vision
Welcome to the New Year! It is always an exciting time as the clock strikes midnight finishing up one year and heading into a new one. Trust me on this: 2012 is going to be one exciting year! If you make it to December 31st of this year, you can be sure that you will not be able to use the word 'boring' to describe your previous 365 days!
Is anyone getting older out there, or is it just me? One thing I can't help but notice is that my eyes don't work the same as they used to! Anyone know what reader glasses are? Yes, Mr. Cahill uses those now! What happened to my 20/20 vision? Why can't I see close up like I used to? It is part of life to watch things change that you weren't expecting or didn't want to happen.
A ministry friend told me that she reads her Bible with 20/20 vision. I was intrigued by the expression, but I had no clue what she meant. She told me that when she reads a verse in the Bible, she reads the 20 verses before it and the 20 verses after it! She said that way, she always reads a verse in context, so she won't get pulled into false doctrine by cherry picking a verse and then making it mean whatever she wants it to mean. Wow! That is a fascinating idea. She had developed this method of reading the Bible, because she had left a church group loaded with false teaching and that was exactly what they did to prove their points—choose a verse, take it out of context, and form a doctrine around that. And of course, that is very, very dangerous.
Matthew 7:1:
"Judge not, that ye be not judged."
I have heard people use this verse time and time again that we are not supposed to judge people, because that is what it says. But what is the context?
Matthew 7:1-5:
"Judge not, that ye be not judged. For with what judgment ye judge, ye shall be judged: and with what measure ye mete, it shall be measured to you again. And why beholdest thou the mote that is in thy brother's eye, but considerest not the beam that is in thine own eye? Or how wilt thou say to thy brother, Let me pull out the mote out of thine eye; and, behold, a beam is in thine own eye? Thou hypocrite, first cast out the beam out of thine own eye; and then shalt thou see clearly to cast out the mote out of thy brother's eye."
You see that we are supposed to judge, but we are supposed to judge righteously! We must know our Bibles, so we can judge situations the right way and not the wrong way. We must not be hypocritical in our judging.
Matthew 7:15:
"Beware of false prophets, which come to you in sheep's clothing, but inwardly they are ravening wolves."
If you don't judge righteously, that is how false prophets come in. When Joel Osteen won't judge the false teaching of Mormonism when he is on TV programs, he is allowing the wolves to come in, because he is not warning the flock. We should want to warn people, so that they are not deceived.
John 14:16:
"And I will pray the Father, and he shall give you another Comforter, that he may abide with you for ever;"
I have had Muslims tell me that the Comforter was Mohammed. That is very interesting. It might sound good, but what is the context?
John 14:26:
"But the Comforter, which is the Holy Ghost, whom the Father will send in my name, he shall teach you all things, and bring all things to your remembrance, whatsoever I have said unto you."
So as you can see, it is plain as day that the Comforter is the Holy Spirit and no one else. But if we are not reading our Bibles correctly and in context, that is how we can fall prey to false teachings.
John 6:44:
"No man can come to me, except the Father which hath sent me draw him: and I will raise him up at the last day."
People have told me that only certain people can be saved, because God only draws certain people to Him. It also looks like that is what is being said in verses 37 and 65 of this passage as well. So it seems pretty simple right? But the real key happens to be in the verse right after verse 44.
John 6:45:
"It is written in the prophets, And they shall be all taught of God. Every man therefore that hath heard, and hath learned of the Father, cometh unto me."
Clearly, within the 20/20 scope of vision, the three troublesome verses are cleared up. Scripture teaches that all who are willing to hear, listen and understand will be drawn by the teachings of the Father toward the truth of Jesus Christ and His sacrifice. If a person loves truth, they will be drawn to and love Jesus, the Truth incarnate.
Many people think that praying to God is reciting the words of Matthew 6:9-15, which we commonly know as the Lord's Prayer. Jesus said in Matthew 6:9:
"After this manner therefore pray ye: Our Father which art in heaven, Hallowed be thy name…"
Just two verses beforehand, Jesus says in Matthew 6:7,
"But when ye pray, use not vain repetitions, as the heathen do: for they think that they will be heard for their much speaking."
Therefore, the Lord's Prayer isn't meant to be a vain repetitious prayer, but an outline for how to pray.
Reading your Bible and studying what you read is one of the real highlights as you follow the Lord. The enemy's job is to get you into a false doctrine to get you off track. So you protect yourself by reading your Bible with 20/20 vision.
Also remember that if you read 3 and 1/2 chapters a day of your Bible, you will read the whole book in one year! That would be a good goal for you to have. It was a real joy for me to read my Bible front to back last year. I am going to do it again this year, and I am going to read it with both my reading glasses and 20/20 vision!
Until the nets are full,