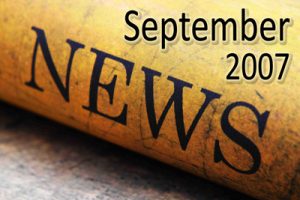 Masterpieces In Progress
In the last newsletter we discussed the topic, "Do we really need another you." If God replicated you, would this world be a better place with more people who believe and live their faith out like you? We took a look a look at some verses in Ezekiel. Now let's look at the verses that come after that in Ezekiel.
Ezekiel 36:25-38:
"Then will I sprinkle clean water upon you, and ye shall be clean: from all your filthiness, and from all your idols, will I cleanse you. A new heart also will I give you, and a new spirit will I put within you: and I will take away the stony heart out of your flesh, and I will give you an heart of flesh. And I will put my spirit within you, and cause you to walk in my statutes, and ye shall keep my judgments, and do them. And ye shall dwell in the land that I gave to your fathers; and ye shall be my people, and I will be your God. I will also save you from all your uncleannesses: and I will call for the corn, and will increase it, and lay no famine upon you. And I will multiply the fruit of the tree, and the increase of the field, that ye shall receive no more reproach of famine among the heathen. Then shall ye remember your own evil ways, and your doings that were not good, and shall lothe yourselves in your own sight for your iniquities and for your abominations. Not for your sakes do I this, saith the Lord GOD, be it known unto you: be ashamed and confounded for your own ways, O house of Israel. Thus saith the Lord GOD; In the day that I shall have cleansed you from all your iniquities I will also cause you to dwell in the cities, and the wastes shall be builded. And the desolate land shall be tilled, whereas it lay desolate in the sight of all that passed by. And they shall say, This land that was desolate is become like the garden of Eden; and the waste and desolate and ruined cities are become fenced, and are inhabited. Then the heathen that are left round about you shall know that I the LORD build the ruined places, and plant that that was desolate: I the LORD have spoken it, and I will do it. Thus saith the Lord GOD; I will yet for this be enquired of by the house of Israel, to do it for them; I will increase them with men like a flock. As the holy flock, as the flock of Jerusalem in her solemn feasts; so shall the waste cities be filled with flocks of men: and they shall know that I am the LORD."
You might want to reread these verses nice and slow. There is a lot of truth in them. You see this world would be better off with more people like you when you are that man or woman of God that He has made and wants you to be. When God cleanses you of your filthiness and your idols have fallen by the wayside, you better believe you are someone that God wants to use to sharpen others on how to live this life.
When your heart of stone is taken out and a heart of flesh is put in you and you walk in obedience, you are the type of calling card the Lord wants to send out into the lives of many others.
2 Corinthians 5:17 says,
"Therefore if any man be in Christ, he is a new creature: old things are passed away; behold, all things are become new."
When the things of the world grow very dim in your eyes and your focus is on the Lord and what matters to Him, you are a new creation that He wants to speak through and use in many people's lives.
By the way do you loath your sin and wickedness in all forms it comes in? If you do not, you might be in a very bad state. When you walk closer and closer with a holy God, you understand that evil and wickedness have nothing to do with Him.
I was on a radio show last week and the topic ended up being false converts. One of the things that we talked about are people who claim the name of Christ who continue to sin. One of the real giveaways is if that sin bothers you when you commit it or can you just slough it off as no big deal. Let me tell you something, if you sin and it doesn't bother you, you have big problems. Those sins are what put Jesus on the cross. How can I enjoy the things that sent my Savior to His death? I need to hate wickedness and evil all the days of my life just like Jesus did. We need to loath the abominations in our lives and in the world, then we need to do something about it.
2 Corinthians 7:9,10 says,
"Now I rejoice, not that ye were made sorry, but that ye sorrowed to repentance: for ye were made sorry after a godly manner, that ye might receive damage by us in nothing. For godly sorrow worketh repentance to salvation not to be repented of: but the sorrow of the world worketh death."
True repentance of your sins, a changing of mind that leads to a changing of actions, is what the Lord desires of His followers. It is time to make sure you fall into that category and that wickedness and evil cannot be named amongst you.
Many times I have told people that they are a work in progress. We are a new creation in Jesus, but we are a work in progress through sanctification as God molds us into the people we are supposed to be. My sister reminded me one day that we are not a work in progress, but a masterpiece in progress! When your life is put into the hands of Almighty God, there is no telling what He can do with a life that is lived wholly for Him. Enjoy the journey as you turn every area of your life over to Him as He shapes a beautiful masterpiece that He can use in many ways in the days to come.
Until the nets are full,