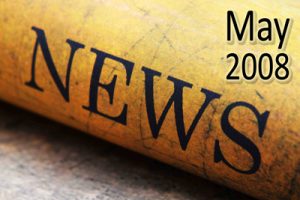 Bon Jovi or Holiness? It's Your Choice
Have you ever had one of those frustrating days of witnessing? I had one of those last night. Curtis and I were down witnessing at the Bon Jovi concert here in Atlanta. It was the second night in a row he was playing and taking peoples' money, and it was the second night in a row that we were down there witnessing. What really began to frustrate me though was how many people claimed to be Christians, but saw no problem with an evening at a pagan rock concert.
One of the problems that we have here in the Bible Belt is that people can give you all the right answers that they are saved, love Jesus, and go to church as you witness to them, yet you find out they have tons of sin in their lives. So I began to ask people who told me they were Christians, what was there inside that concert that was going to glorify God? Many people didn't say a thing as they walked away into the show. One person said, "rock and roll." Believe it or not he was not able to show me the biblical reference to back that up.
One lady at a Jay-Z concert a couple of weeks ago said that when you go inside to an event like that, you have to use discernment. Of course wouldn't the correct discernment be not going in there in the first place?
I asked many people why they would you give their money to Bon Jovi instead of giving it to missionaries or Bibles for China. And of course one lady let me know that she got the ticket for free so it was okay.
One lady told me last night that what was going to glorify God in that concert was "her happiness." So as long as we are happy, that glorifies God? Of course, she was unable to give me a biblical reference to back that one up.
1 John 1:4 says,
"And these things write we unto you, that your joy may be full."
When you read that in context our joy comes from knowing the Lord Jesus Christ. Period.
1 Peter 3:14 says,
"But and if ye suffer for righteousness' sake, happy are ye: and be not afraid of their terror, neither be troubled;"
Happiness comes from being persecuted for the Lord's sake. We are then experiencing what Jesus, the apostles, and the martyrs of the church went through.
One lady was cursing as she walked past me. I told her that she needed to repent of her sins and get right with Jesus Christ. She told me that she had already been saved twice! According to the Bible, how many times does one get saved? Be careful folks. We use all kinds of words like 'rededication,' 'recommitments,' 'getting saved twice,' and you will not find those in the Bible!
I also ran into a lot of people who were wearing crosses. So I began to ask people, "Why do you wear that cross?" The number one answer on this evening was that it was "pretty." I get the feeling that if you ever wore a cross on your back at one point in your life, you would never refer to a cross as "pretty."
I got the chance to strike up a conversation with one lady who was wearing a cross, and I ended up giving her One Heartbeat Away. About thirty minutes later, she came back up to me and wanted to talk. She told me that she was reading the book in line at a bathroom. She said it really made her think. She said that she is into a lot of psychic stuff from Sylvia Brown to John Edwards of Crossing Over. It was a very interesting conversation.
As I was leaving the show and getting on the train to go home, I gave a tract to a guy, Otis, in the station. I then wound up sitting next to him on the train. I asked, "where is that accent from?' He said, "Jamaica." I had just been in Jamaica speaking a couple of weeks ago. As I began to witness to him, he seemed pretty solid in his faith in Jesus Christ, and then he made some very interesting comments. He said at church in Jamaica, you dressed up really nice for services. He stated that in America, it is perfectly acceptable to dress grungy and go to church. He said that he is amazed that he would see Christians here in America getting tattoos and their bodies pierced AFTER they are saved. He said that in Jamaica you wouldn't see that on someone at church unless it was a tattoo that they had gotten before they were saved.
Otis stated that he got a phone call from a pastor's daughter that lives in New York City. He was friends with her when he lived up there for a while. She told him that she had exams the next day, but she was going clubbing that night. He said that Christians in Jamaica say, "No, no we don't go clubbing anymore." And he then said it was sad to see pastors with helicopters and private jets here in America. Otis said that you would never see that in Jamaica. He then said Christianity is very different here.
Galatians 2:20 says,
"I am crucified with Christ: nevertheless I live; yet not I, but Christ liveth in me: and the life which I now live in the flesh I live by the faith of the Son of God, who loved me, and gave himself for me."
2 Corinthians 5:17 says,
"Therefore if any man be in Christ, he is a new creature: old things are passed away; behold, all things are become new."
2 Corinthians 6:17 says,
"Wherefore come out from among them, and be ye separate, saith the Lord, and touch not the unclean thing; and I will receive you,"
Jude 18,19 states,
"How that they told you there should be mockers in the last time, who should walk after their own ungodly lusts. These be they who separate themselves, sensual, having not the Spirit."
So which is it people, the world or Jesus Christ? Bon Jovi or Holiness? What in your life do you need to get rid of that does not glorify the Lord Jesus Christ? Make a choice and do it now.
The second night of Bon Jovi, a scalper walked up to me. I remember him well from the first night because he wouldn't take anything from me, wouldn't stop and talk, nothing. So I threw the question at him, "If you died tonight, are you 100% assured that you would go to heaven?" There was no response as he walked away. On the second night, he walked up to me. He said that he had been thinking that night about the question that I had asked him. He said he had started reading one of my books! I told him that I didn't give him one of my books, and he said his wife had it. Little did I know, but I had witnessed to his wife earlier that evening! Dennis and I had a great chat. He knows the life of a scalper and living in sin is not how one is supposed to live this life.
As one guy said one time, 'make sure you don't get pleasure or enjoyment out of what put Jesus on the cross.' That is a powerful statement. Make your choice: the world or holiness. You only have eternity to be thankful or regret your decision.
Until the nets are full,

P.S. Yes, that was a frustrating night witnessing, but you can be rest assured it will not stop us. We gave out over 5000 tracts over the two nights, plus many books, and some very interesting conversations. Tonight the Atlanta Hawks have a playoff game. Yes, we will be down there being a light in a very dark world.