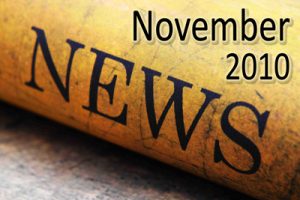 Thanks
A little over nine years ago, a man of God told me that I needed to write a book. He said that I had too much good teaching and too many stories to tell not to. He also told me that it is good to have something to leave with people after you speak, because they will usually want more of what you have to say.
I listened to that man, but put it on the back burner. The reason? I do not like to write. I really kind of hate it, to be honest with you. Back in college, I made all A's and only four B's. And if I remember correctly, all of the B's were in English. I really hate to write! And I really mean that! If you only knew how much I procrastinate each month writing these newsletters, you would totally understand!
Well a short while later, another man of God told me that I needed to write a book. I mentioned to him that I was not a writer (I kind of said it smugly over the phone). I could feel him almost sit up in his seat on the other end of the line and speak very strongly to me: "If God wants to write a book through you, He will pull it through you." He gave me some ideas on how to get started, and said he would help me in any way that he could.
I like people who speak strongly. I like people who have convictions and will make their stand. I appreciated the man who said that. I also knew he cared about me as well.
So the very next day, I sat down at my computer and began to type. If you only knew how excruciating that whole process is, you would never write a book! When you start typing the book into the computer, it takes, on average, a year before you hold it in your hands. There is all of the typing, editing, having others read it, layout, cover design, printing, etc. It really is a much bigger process than I ever knew. I held the book "One Thing You Can't Do In Heaven" eleven months after I started writing it. For "One Heartbeat Away," it was a year and nine months before I held it! And as some of you who know me can attest, I can be a tad impatient at times. Well, book writing almost sent me over the edge!
As I began to think about the printing process, I had some numbers to look at on how much it would cost. I did not have anywhere near the kind of money I needed. So I called a friend of mine who is the widow of a pastor to chat. I guess she could tell I was having my little pity party on the phone, and she doesn't play that! She said, "Mark, if God wants those books out there, He will get you the money for them." She has a lot more life experience than I do, and she has seen God do things like that time and time again.
Well, during the next week, I got another phone call. It was from a lady who knew about my book project. She said that she had not been giving enough to God's work and wanted to know how much the first printing was going to cost. So, I gave her the number. She said, "I will write you a check for that amount to get them printed!" Well, I about fell out of my chair! That pastor's wife was so, so right. My favorite verse is "O, me of little faith!" So now I had the money for the printing, but there was still one other problem:
Sitting at my desk one day, I realized I had ordered 10,000 copies of "One Thing." But, as I was looking at my calendar of upcoming events, and figuring some numbers in my head, I thought, "God, I can probably move 5,000 of these at my upcoming events, but what am I going to do with all the rest of them?" So then I started getting ideas in my head on how to use boxes of books for nightstands, doorstops, footstools, etc.
Oh by the way, did I tell you my favorite verse was "O, me of little faith"? Well, as of right now, between the two books, there are over 1 million copies in print! I can't even believe I just wrote that. I am so excited and humbled by that. Here I am, sitting at my little desk and typing on my computer and there are that many copies circulating around the world. They have been translated and printed into 10-12 different languages now. I just opened a package last week. When I pulled the contents out, it was both books in Dutch. I had totally forgotten that I had given someone permission to translate and print them!
Today, I got a report from a gentleman in Texas who does prison ministry. He sent me a list of all the prisons that he got the books into in both English and Spanish. It was so humbling to look at that list. Each week, I get five to ten letters from prisoners who are reading the books in prisons across America.
I can't even tell you the number of emails or letters I have gotten from military personnel that are reading the books and watching the DVDs. Some of the stories that we get from soldiers in Iraq and Afghanistan are just off the charts.
This newsletter is not about me and my books, though. It is about you. Thank you so much for ordering the books through the years. Thanks for taking the books and spreading them out in your churches, giving them to visitors at your churches, men's and women's groups, FCA and college groups, sending them to soldiers, putting together gift bags and giving them to ladies who work at strip clubs (that is a true story by the way! And it was some ladies who did that and not a man. The women working at the club were so thankful for those ladies caring about their souls), handing them out on college campuses to students and professors, giving them away on plane flights, to waiters and waitresses, to parents, children, extended family, and friends.
I want to thank you for donating money for the books. We take all donations that come in and put it right back into the ministry. Some people can't afford the materials, and it is you folks who give for the products and other donations that keep the whole thing going. Thanks for being so generous with your hard earned money. It is much appreciated and always will be.
We have already had a ton of orders for the new "One Second After You…" booklets. I am so excited about that. My faith is a little bigger now than it used to be!
As we enter the holiday season, it is a time to be very thankful.
1 Chronicles 16:8:
"Give thanks unto the LORD, call upon his name, make known his deeds among the people."
Ezra 3:11:
"And they sang together by course in praising and giving thanks unto the LORD; because he is good, for his mercy endureth for ever toward Israel. And all the people shouted with a great shout, when they praised the LORD, because the foundation of the house of the LORD was laid."
Psalm 18:49:
"Therefore will I give thanks unto thee, O LORD, among the heathen, and sing praises unto thy name."
Psalm 100:4:
"Enter into his gates with thanksgiving, and into his courts with praise: be thankful unto him, and bless his name."
Daniel 6:10:
"Now when Daniel knew that the writing was signed, he went into his house; and his windows being open in his chamber toward Jerusalem, he kneeled upon his knees three times a day, and prayed, and gave thanks before his God, as he did aforetime."
John 6:11:
"And Jesus took the loaves; and when he had given thanks, he distributed to the disciples, and the disciples to them that were set down; and likewise of the fishes as much as they would."
Ephesians 5:20:
"Giving thanks always for all things unto God and the Father in the name of our Lord Jesus Christ;"
Thank you so much for being involved in the ministry and being such a blessing to me. Thanks for praying for me. I can't even begin to describe how thankful I am for all of you that are doing the Lord's work in reaching the lost.
We have so much to be thankful for. God has been so good to us. Thank Him for all that He has done for you. Thank Him for His Son that gave His life for you and for the sins of the whole world. Thank Him by taking the truths of His Son Jesus Christ to a lost and dying world. The whole world needs to hear, and that is our job. Thank Him, Thank Him, Thank Him!
Until the nets are full,

P.S. I just got this comment about the new "One Second After You…" booklets:
"Oh My Goodness! Mark's booklet is amazing! Thanks for giving me one—it's the perfect in-between for the small tracts and the full-size books, giving enough info for someone to be fully convinced, or at least doubt what they've been believing and investigate for themselves. AND! It's perfect for us science geeks—it really makes you think logically and critically (something most people think Christians never do) about the make up of the universe, our galaxy, the earth, and all the way down to our own bodies. I can't wait to give it to someone! :-)"
And here is a picture of two guys with the booklets on the subway in New York City. Praise the Lord!!