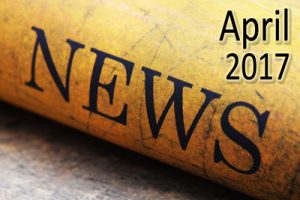 Very, Very Empty
A few weeks ago, I attended another one of my high school reunions. I always enjoy those events because they give me the chance to catch up with people again. I like to see how all of our lives are progressing and to get into some good conversations.
At the hotel where the reunion was held, I had a conversation with one of the staff. As we were talking, we had a good discussion about the afterlife. She wasn't sure what happened when she died. She told me she liked to read, so I pulled out a book and asked her for her name before signing it. She answered, "Cherith." I had not heard that name before so I said, "Is that a family name?" She replied, "Nope, it is in the King James Bible twice!" Well, I sure didn't remember it being there so I asked her where in the Bible it was mentioned. She knew the exact verses:
1 Kings 17:1-5:
"And Elijah the Tishbite, who was of the inhabitants of Gilead, said unto Ahab, As the Lord God of Israel liveth, before whom I stand, there shall not be dew nor rain these years, but according to my word.
"And the word of the Lord came unto him, saying,
"Get thee hence, and turn thee eastward, and hide thyself by the brook Cherith, that is before Jordan.
"And it shall be, that thou shalt drink of the brook; and I have commanded the ravens to feed thee there.
"So he went and did according unto the word of the Lord: for he went and dwelt by the brook Cherith, that is before Jordan."
As you can see, "Cherith" is the name of a brook in the Bible, and it can mean a cutting or a separation. So as she recited the verses, it led me right to the next question. Now you probably already know what that question is, but remember, a conversation is taking place and not a presentation. We ask questions, but certain things that come up during the conversation will lead you down different paths. You just have to be ready to go in those directions. So I said, "Did you grow up in a Christian home?" She stated that she did, so I then responded, "Do you still believe that now?" And that is when the conversation really took off! She wasn't sure if Christianity was true anymore. She knew it was her choice to believe and not her parents' faith that would save her. She also realized she had to study it out to find the answers for herself.
While we continued to chat, I let her know that she just needed to look at the evidence. One of the questions I ask people is: Do you believe Jesus existed? Now I wasn't asking her that question; I was just kind of sharing it in a general way. But she answered it anyway and said pretty loudly, "Yes." Then in the same manner I said that I also ask people: Do you believe Jesus died on the cross? She again verbally responded in the affirmative. Once more I said that I will ask people, Do you believe Jesus rose from the dead? She responded out loud that she was not sure about that one!
And there you have it. For many people that is the kicker—did He or didn't He rise from the dead? So what is the answer?
Mark 16:6:
"And he saith unto them, Be not affrighted: Ye seek Jesus of Nazareth, which was crucified: he is risen; he is not here: behold the place where they laid him."
2 Corinthians 5:14,15:
"For the love of Christ constraineth us; because we thus judge, that if one died for all, then were all dead:
"And that he died for all, that they which live should not henceforth live unto themselves, but unto him which died for them, and rose again."
1 Corinthians 15:17-22:
"And if Christ be not raised, your faith is vain; ye are yet in your sins.
"Then they also which are fallen asleep in Christ are perished.
"If in this life only we have hope in Christ, we are of all men most miserable.
"But now is Christ risen from the dead, and become the firstfruits of them that slept.
"For since by man came death, by man came also the resurrection of the dead.
"For as in Adam all die, even so in Christ shall all be made alive."
Acts 26:23:
"That Christ should suffer, and that he should be the first that should rise from the dead, and should shew light unto the people, and to the Gentiles."
1 Corinthians 6:14:
"And God hath both raised up the Lord, and will also raise up us by his own power."
Scripture could not be any clearer on this topic. Of course, the Bible is our final authority, but even secular experts weigh in with some compelling statements:
Dr. Simon Greenleaf said:
"It was therefore impossible that they [the apostles] could have persisted in affirming the truths they had narrated, had not Jesus actually risen from the dead . . ."
(Simon Greenleaf, An Examination of the Testimony of the Four Evangelists by the Rules of Evidence Administered in the Courts of Justice, p.29).
Professor Thomas Arnold, former Chair of History at Oxford University and author of the famous volumes History of Rome, was skillfully educated in the study of historical facts. Professor Arnold states:
"I have been used for many years to study the histories of other times, and to examine and weigh the evidence of those who have written about them, and I know of no one fact in the history of mankind which is PROVED BY BETTER AND FULLER EVIDENCE of every sort, than the great sign which God has given us that Christ died and rose again from the dead." 
(Thomas Arnold, The Christian Life: Its Hopes, Its Fears, and Its Close, p. 14)
http://www.av1611.org/resur.html
Pick up the Paradise book that I wrote sometime and look through pages 145-158. It is a great section that sums up some key facts about the Resurrection. I purposely included a lot of information there about the resurrection because I know how important it is to have these facts on hand when talking with lost people.
And just to reiterate, one more time, this critical doctrine is:
1 Corinthians 15:14:
"And if Christ be not risen, then is our preaching vain, and your faith is also vain."
The resurrection is really the key. It is the event that places Jesus Christ outside the category of any and every other religious leader who has ever existed. And the Scriptures are true when they say that if He did not rise from the dead, our faith is in vain.
I always remind people that since Jesus rose from the dead, they will rise as well. They will either rise to everlasting righteousness (I move my hand upward at this point), or everlasting contempt (I move my other hand downward at this point). It really hits home with people because, truthfully, people want to go up and not down.
So always remember, parents, the importance of teaching to your kids the factual backing of the resurrection. When or if they begin to question their faith, they need to have the evidence of the resurrection firmly embedded in their minds. Please say a prayer for Cherith to search out that evidence.
So as we head into Resurrection weekend, remember that Jesus' resurrection isn't just something we believe. It is an actual, historical event that occurred. Jesus Christ is alive today, and you meet the resurrected Savior sometime soon. You want everyone to be ready to meet Him in mercy and not in judgment.
Also during that night at that hotel, I got to speak to three people from the Netherlands, two Muslims from Turkey, and two very open photographers from Los Angeles who just happened to be smoking some cigarettes as I walked to my car later in the evening! God is great. The tomb is empty. Shout it from the rooftops and keep serving Him with all that you have got!
Until the nets are full,