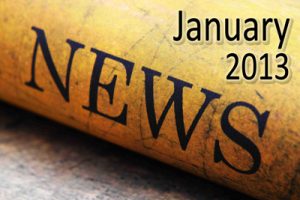 It Is A New Dawn
Sometimes, you just know when something is going to be exciting. You just feel it down deep. I really feel that 2013 is going to be loaded with fascinating events! Anyone who said that on January 1, 2012 would have been very correct about this past year, and I truly believe that 2013 will be another momentous year that none of us will forget. I think it is going to be an interesting 'New' Year!
Judges 5:8
"They chose new gods; then was war in the gates: was there a shield or spear seen among forty thousand in Israel?"
We have choices to make. When we walk away from Jesus and choose new gods, eventually, war will show up at the gates of our lives. I just watched a YouTube video of a man who was given tickets to the Alabama and Notre Dame national championship game for Christmas. When he saw the tickets, it literally brought tears to his eyes. The things of the world are passing away, people. Shouldn't we be more excited that we have a ticket to heaven when we die than tickets to any 'big' event here on earth? Or what about our excitement about giving away as many of those tickets that are stamped in the blood of Jesus Christ to the lost as we can? Make sure the only God you have chosen for the coming year is Jesus, and put all those other gods to the side.
1 Chronicles 13:7, 8
"And they carried the ark of God in a new cart out of the house of Abinadab: and Uzza and Ahio drave the cart. And David and all Israel played before God with all their might, and with singing, and with harps, and with psalteries, and with timbrels, and with cymbals, and with trumpets."
When the Jews brought back the ark of God, it was in a new cart. I don't think that just means a 'new' one being different from the old one. I think it was a brand new cart for the ark. When you see them here singing and dancing before the ark, they are in essence giving God their best. Not their second best, but their best. When 2013 has come and gone, will you have given God your best, or your second best all year?
Psalm 40:3
"And he hath put a new song in my mouth, even praise unto our God: many shall see it, and fear, and shall trust in the LORD."
When God works in your life, does it spill out into the lives of others? Make sure you sing His praises all throughout this year, and make sure many can hear it from your lips! It will lead to people trusting the Lord!
Ecclesiastes 1:10
"Is there any thing whereof it may be said, See, this is new? it hath been already of old time, which was before us."
Never forget that there is really nothing new under the sun. So let's make sure we give some really good 'old' news to people this year: He was born, He died on the cross for your sins, and He rose from the dead to not only show that He does conquer death, but so also will you and all those lost people you talk to this year.
Isaiah 65:17
"For, behold, I create new heavens and a new earth: and the former shall not be remembered, nor come into mind."
Anyone looking forward to a new heaven and a new earth one day? Give it to me now!!
Lamentations 3:21-23
"This I recall to my mind, therefore have I hope. It is of the LORD'S mercies that we are not consumed, because his compassions fail not. They are new every morning: great is thy faithfulness."
Remember that we don't have a yearly faith, but a daily faith. His mercies are new every morning. We need to be drawing closer to Him every day. How often do we read our Bibles? That's right, daily! Remember to read your Bibles through front to back this year. It is one of the best things that I have ever done with my time, and I do it every year.
Matthew 26:28, 29
"For this is my blood of the new testament, which is shed for many for the remission of sins. But I say unto you, I will not drink henceforth of this fruit of the vine, until that day when I drink it new with you in my Father's kingdom."
Anyone thankful for the new covenant? That we can go right to Jesus and Jesus alone for the forgiveness of our sins? Anyone notice that He's waiting for us to arrive in heaven? Amen!!
John 13:34
"A new commandment I give unto you, That ye love one another; as I have loved you, that ye also love one another."
Make sure love is one of your hallmarks as you live out 2013.
1 Corinthians 5:7
"Purge out therefore the old leaven, that ye may be a new lump, as ye are unleavened. For even Christ our passover is sacrificed for us:"
Purge the sins and false teaching from your life, daily. Make sure that if you see December 31, 2013, it was the holiest year that you have lived yet on planet earth!
2 Corinthians 5:17
"Therefore if any man be in Christ, he is a new creature: old things are passed away; behold, all things are become new."
Anyone thankful to be a new creation of the Most High God?
Revelation 21:5-8
"And he that sat upon the throne said, Behold, I make all things new. And he said unto me, Write: for these words are true and faithful. And he said unto me, It is done. I am Alpha and Omega, the beginning and the end. I will give unto him that is athirst of the fountain of the water of life freely. He that overcometh shall inherit all things; and I will be his God, and he shall be my son. But the fearful, and unbelieving, and the abominable, and murderers, and whoremongers, and sorcerers, and idolaters, and all liars, shall have their part in the lake which burneth with fire and brimstone: which is the second death."
Jesus is in the business of making all things new. That is what He does. But remember, this is no game to the lost who die without repenting of sin and receiving His saving grace. This is no joke. There is no do over. Hell is a real place that they can't get out of. And you and I should want to do something about it!
I am always excited about the New Year! It's a new dawn, and it's a new day! New places to go, new people to meet, and new lives to touch for the Lord. Make sure 2013 will be an unforgettable year in your life and an unforgettable year for those you cross paths with, as well!
Until the nets are full,