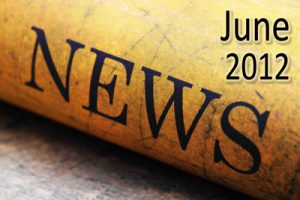 The Hand of God
I am enjoying reading and studying through the Scriptures again this year, and as usual, Isaiah is hitting me pretty hard!
Isaiah 5:24, 25:
"Therefore as the fire devoureth the stubble, and the flame consumeth the chaff, so their root shall be as rottenness, and their blossom shall go up as dust: because they have cast away the law of the LORD of hosts, and despised the word of the Holy One of Israel. Therefore is the anger of the LORD kindled against his people, and he hath stretched forth his hand against them, and hath smitten them: and the hills did tremble, and their carcases were torn in the midst of the streets. For all this his anger is not turned away, but his hand is stretched out still."
No one reading this newsletter wants the hand of God to be stretched out toward us in anger. God is very clear here. The people despised the word of God, and obeying Him was not a factor in their life. He loved them so much, He was going to get their attention.
Isaiah 9:12, 13:
"The Syrians before, and the Philistines behind; and they shall devour Israel with open mouth. For all this his anger is not turned away, but his hand is stretched out still. For the people turneth not unto him that smiteth them, neither do they seek the LORD of hosts."
Are you seeking Him? It is a choice each one of us has to make.
Isaiah 9:17:
"Therefore the Lord shall have no joy in their young men, neither shall have mercy on their fatherless and widows: for every one is an hypocrite and an evildoer, and every mouth speaketh folly. For all this his anger is not turned away, but his hand is stretched out still."
God will not be mocked. He knows our hearts. He knows if we love Him, or if we are evildoers. He is all knowing, which is a great thing to always remember, because it means He cares about every detail of our lives!
Isaiah 10:1-4:
"Woe unto them that decree unrighteous decrees, and that write grievousness which they have prescribed; To turn aside the needy from judgment, and to take away the right from the poor of my people, that widows may be their prey, and that they may rob the fatherless! And what will ye do in the day of visitation, and in the desolation which shall come from far? to whom will ye flee for help? and where will ye leave your glory? Without me they shall bow down under the prisoners, and they shall fall under the slain. For all this his anger is not turned away, but his hand is stretched out still."
How you treat people is very important to God. You might want to go back and look at those verses again.
Isaiah 23:11:
"He stretched out his hand over the sea, he shook the kingdoms: the LORD hath given a commandment against the merchant city, to destroy the strong holds thereof."
You do not want God's hand of judgment stretched out against you.
Isaiah 45:12:
"I have made the earth, and created man upon it: I, even my hands, have stretched out the heavens, and all their host have I commanded."
He is the Hand of Creation!
Isaiah 51:13:
"And forgettest the LORD thy maker, that hath stretched forth the heavens, and laid the foundations of the earth; and hast feared continually every day because of the fury of the oppressor, as if he were ready to destroy? and where is the fury of the oppressor?"
God's reminder to us is not to forget the Lord our Maker!
Romans 10:20,21:
"But Esaias is very bold, and saith, I was found of them that sought me not; I was made manifest unto them that asked not after me. But to Israel he saith, All day long I have stretched forth my hands unto a disobedient and gainsaying people."
I gave a lady some money one time, and she said, "Ah, an open hand!" I asked her what she meant, and she said, "An open hand can give or receive. A closed hand can do neither." I have never forgotten that. God's hand is open towards you: Will you receive it?
Matthew 14:31:
"And immediately Jesus stretched forth his hand, and caught him, and said unto him, O thou of little faith, wherefore didst thou doubt?"
So here we have Peter sinking in the water, and what does our gracious Lord do? Jesus stretches forth His hand to help him. He keeps stretching out His hands towards us in mercy, but will you accept it?
At the end of His life, Jesus spoke truth from the cross. The thief next to Him just wanted to know if Jesus would remember him when He went to His kingdom. And Jesus' simple reply was that he would be with Him in paradise! Jesus has His hand of mercy stretched out, will you receive it?
Acts 17:27 is very clear:
"That they should seek the Lord, if haply they might feel after him, and find him, though he be not far from every one of us:"
God is not far from any one of us. He is not far from the alcoholic, drug user, wayward child, someone on a death bed, the arrogant, a politician, a movie star, the wealthy with no faith, or even someone in jail. All we have to do is turn around, repent, and see His open hand of mercy waiting for us.
I got punished so many times as a kid! Looking back on it, my parents were correct in punishing me about 99% of the time. Okay, that was a joke! They should have punished me a million times more than they did! But all I know is when my Dad's hand was outstretched to spank me, or my parents' hands were outstretched to ground me or take the car away, I would have much rather had their hand stretched out to hug me or bless me. But looking back on it, it was my own disobedience that brought their hands to do certain things, and they knew they had to get my attention, or I was going to be a wayward human being for many years.
If the hand of God has been against you, it is pretty simple. He wants you to repent and return to Him. His hands would rather help you up like He did for Peter, or hug you like He did John. And the amazing part about the whole thing is that He leaves it up to us. We each have the ability and responsibility to make choices, and the ability and responsibility to repent when we get off of the narrow road. It is your move. What move will you make? Mercy or Judgment? It is your choice. I am praying for each person that reads this newsletter that you will reach out to the hand of God, because His mercy endureth forever!!
Until the nets are full,

P.S. We had a lot of people ask us for a study guide for One Heartbeat Away. That is now out and on the website. So if you have been wanting to take your group through that book or do it as an individual study, you now have another tool to help you do just that. Stay bold!