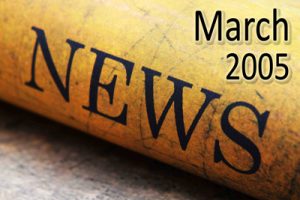 The Long Red Line
Hebrews 11:38
[The faithful believers] "Of whom the world was not worthy: they wandered in deserts, and in mountains, and in dens and caves of the earth."
God granted me an opportunity last month to speak at a retreat for some of the cadets from West Point. These are young people who are being trained up to be leaders in the Army.
I would like for you at this moment to stop reading this newsletter and pray for our military personnel. However you feel led to pray for them, please do. Please pray for the salvation of all of their souls and for the impact that Christian soldiers can have reaching the lost around the world.
One time at the retreat, before I came up to speak the cadets were singing a song called Onward Christian Soldiers. Some of the words are:
    1.       Onward, Christian soldiers, marching as to war,
with the cross of Jesus going on before.
Christ, the royal Master, leads against the foe;
forward into battle see his banners go!
  Refrain:      Onward, Christian soldiers, marching as to war,
with the cross of Jesus going on before.
    2.       At the sign of triumph Satan's host doth flee;
on then, Christian soldiers, on to victory!
Hell's foundations quiver at the shout of praise;
brothers, lift your voices, loud your anthems raise.
It was moving to hear the cadets' voices powerfully raised up in song to the Lord. But something began to hit me as I listened to the singing. I picked up my Bible and turned to Hebrews 11. In that chapter, in what some call "the great Hall of Fame of the Faithful," it lists many servants of God who gave up everything to follow the Lord. They literally lived a life that made the world unworthy of them.
Then I took a look at Hebrews 12:1,2:
"Wherefore, seeing we also are compassed about with so great a cloud of witnesses, let us lay aside every weight, and the sin which doth so easily beset us, and let us run with patience the race that is set before us,
Looking unto Jesus, the author and finisher of our faith; who for the joy that was set before him endured the cross, despising the shame, and is set down at the right hand of the throne of God."
Last year I was watching a PBS special about West Point. One of the things mentioned on that program was a West Point tradition called the "long gray line." This refers to the gray uniform worn by the cadets, and to the fact that there has been a long history of continuous excellence of character and achievement among the men who have worn that grey uniform.
West Point was founded in 1802. They have rigorously trained many young men to become our leaders — in the military and in other spheres of influence. Generals, presidents, and many high-ranking individuals have come through the Corps of Cadets. So there is a high standard that these cadets have to live up to.
But it is not just that the "long gray line" extends into the past; it also extends into the future. Cadets will always be representatives of this institution. When people look at a graduate of West Point, they form an opinion of what West Point is about. So it is ingrained in the cadets to uphold the tradition of West Point excellence into the future.
In Hebrews, we read about a great "cloud of witnesses" that have gone before us. Read all of Hebrews 11 to see what this great cloud of witnesses have gone through. It is an amazing chapter. But here is the implication of that verse: The cloud of witnesses doesn't just go into the past, but it goes on into the future.
Many men and women who have gone on before us have given their all for Jesus. Today, you are part of that great cloud of witnesses, if you are a believer. How does that great cloud of witnesses think of us who now carry their tradition of following the Lord?
How does our Lord rate our lives compared to these that have gone before us? Many of them spilled their blood to follow Jesus. That blood has created a long red line that we are attached to. There is martyrs' blood all across this world, and that blood cries out to God. There are people dying for Jesus right now all around our world.
How is the persecution going in your life? We mainly get verbal persecution, lose our job, or get arrested for following Jesus in America. We have not yet really reached the point of shedding our blood to follow Jesus. If that day comes, will you keep the long red line going into the future?
Until the nets are full of souls that our Savior died for,