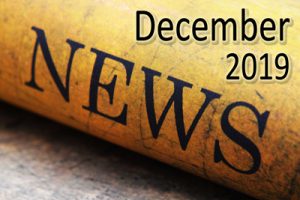 From the Womb, to the Cross, to the Tomb, to Eternity!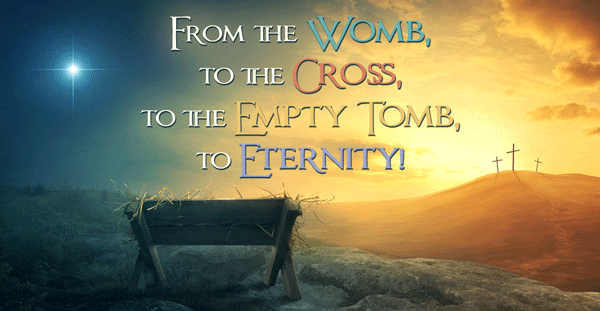 As many people and countries in this world celebrate Christmas, we must not forget why there is even a Christmas to celebrate.
The Virgin Birth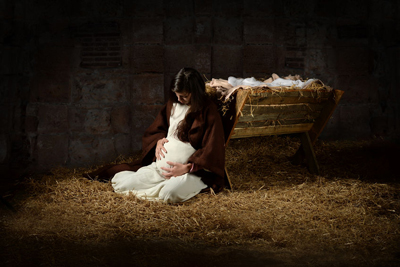 Isaiah 9:6
For unto us a child is born, unto us a son is given: and the government shall be upon his shoulder: and his name shall be called Wonderful, Counsellor, The mighty God, The everlasting Father, The Prince of Peace.
Isaiah 7:14
Therefore the Lord himself shall give you a sign; Behold, a virgin shall conceive, and bear a son, and shall call his name Immanuel.
Matthew 1:23
Behold, a virgin shall be with child, and shall bring forth a son, and they shall call his name Emmanuel, which being interpreted is, God with us.
Christmas is all about a virgin who gave birth to the Son of God. This young lady had never been with a man. In an earthly sense, this is impossible. But all things are possible with God. If God said that a virgin named Mary would be with child, then she would. It is really that simple with God.
Romans 5:12, 17, 19
Wherefore, as by one man sin entered into the world, and death by sin; and so death passed upon all men, for that all have sinned:
For if by one man's offence death reigned by one; much more they which receive abundance of grace and of the gift of righteousness shall reign in life by one, Jesus Christ.)
For as by one man's disobedience many were made sinners, so by the obedience of one shall many be made righteous.
In reading these Scriptures, it looks as if the sin nature is passed down through the father through the male generation. So why is the virgin birth hugely important? Jesus was not born with a sin nature. He did not have an earthly father who sired him. The virgin birth goes right around the sin nature and fathers passing it on to their children. Jesus could not be the Perfect Blood Sacrifice for our sins if He had a sin nature. There is no other way to pay for sins except through a sinless Savior.
The Skeptics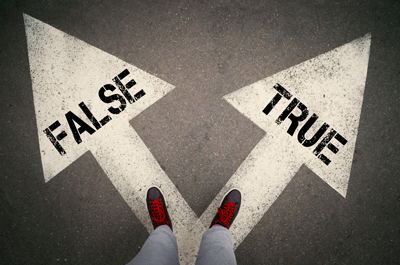 The Christian writer Rob Bell has a different take on the virgin birth:
"What if tomorrow someone digs up definitive proof that Jesus had a real, earthly, biological father named Larry, and archeologists find Larry's tomb and do DNA samples and prove beyond a shadow of a doubt that the virgin birth was really just a bit of mythologizing the Gospel writers threw in to appeal to the followers of the Mithra and Dionysian religious cults that were hugely popular at the time of Jesus, whose gods had virgin births? But what if, as you study the origin of the word 'virgin' you discover that the word 'virgin' in the gospel of Matthew actually comes from the book of Isaiah, and then you find out that in the Hebrew language at that time, the word 'virgin' could mean several things. And what if you discover that in the first century being 'born of a virgin' also referred to a child whose mother became pregnant the first time she had intercourse? What if that spring were seriously questioned? Could a person keep on jumping? Could a person still love God? Could you still be a Christian? Is the way of Jesus still the best possible way to live? Or does the whole thing fall apart? . . . If the whole faith falls apart when we reexamine and rethink one spring, then it wasn't that strong in the first place, was it?"
https://seeingclearly.wordpress.com/2007/06/24/rob-bellon-the-virgin-birth/
What Rob does not understand is that if one of the Old Testament prophecies is false, then the Holy Scriptures are not trustworthy. God only gets things 100 percent correct. He will never be a 99-percenter. It makes you wonder if teachings like this had something to do with Rob Bell becoming a favorite of Oprah?
Planned Parenthood has also joined in the game of mocking the virgin birth. They printed some Christmas cards which say, "Choice on Earth" rather than "Peace on Earth," which is what we read in Luke 2:14. So we celebrate the birth of the Son of God, while they turn it around to celebrate the deaths of millions of children. Can you imagine the pressure Planned Parenthood would have put on Mary, her parents, and her friends to murder and abort that baby?
Psalm 127:3
Lo, children are an heritage of the Lord: and the fruit of the womb is his reward.
Ecclesiastes 11:5
As thou knowest not what is the way of the spirit, nor how the bones do grow in the womb of her that is with child: even so thou knowest not the works of God who maketh all.
God takes anything and everything that happens in the womb very, very seriously. How about you?
The Unspeakable Gift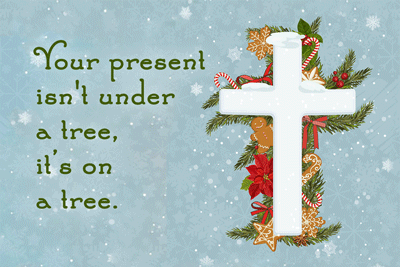 As a friend of mine, Zach, who is in Heaven now, always said, "Your present isnt under a tree, it is on a tree."
2 Corinthians 9:15
Thanks be unto God for his unspeakable gift.
From the womb, to the cross, to the empty tomb, to eternity! What a ride this has been for Him and for us! Keep getting many, many people ready for their journey into eternity.
Until the nets are full,

P.S. I just got some books in the mail that I am looking forward to digging into. Why? Reading is so important as we develop our minds to stand ever stronger for the Lord. So we have put our single books together so you can order them bundled together for yourself or to send to others. Pick up your copies of these single books grouped into fiction, non-fiction, and all the books in a 7-book bundle. These make for great for stocking stuffers, presents, or gifts for the people you know and meet. Or even for the delivery people who come to your front door!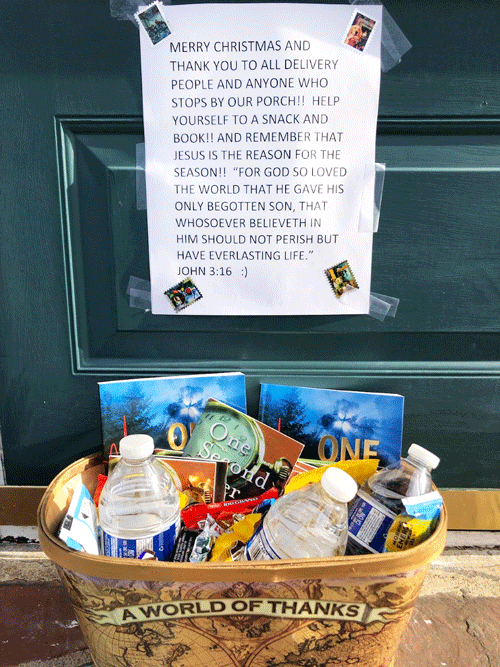 Check out our Specials page to see the products we have on sale this Christmas season! Christmas is coming, but so is the New Year!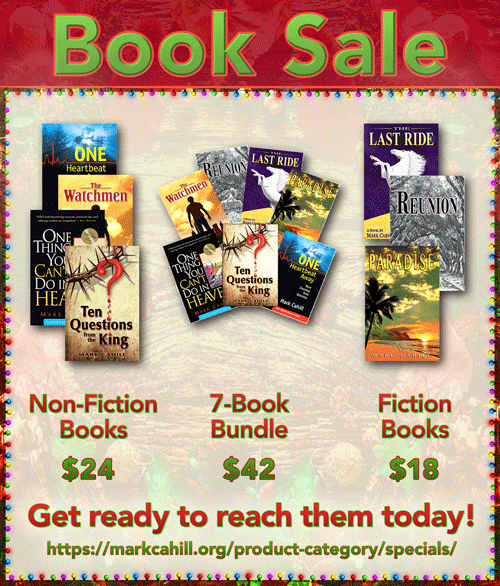 https://markcahill.org/product-category/specials/