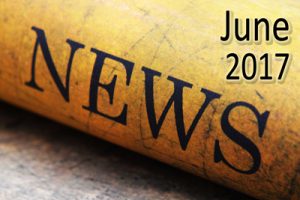 "Levinthians"
All I wanted to do the other day was go to Walmart—nothing more and nothing less. But I made the fatal error of Praying for B.O.B. (See the links in the P.S. below to hear this talk, Pray for B.O.B. which I give in churches around the country) at my front door before leaving my condo! Every time I cross the threshold after saying this prayer, something very fascinating happens.
While I was in the store pushing my cart, I noticed a girl trying to come up behind me. But then I recognized she was the young lady from the fast-food drive-in that I go to periodically. She was trying to surprise me, but to no avail. Yes, I still eat healthy, and yes, every now and then I stop by a fast-food place to get the only two items left on the menu that have some redeeming nutritional value to them!
While we were standing there talking, she said she didn't realize I was so tall. That made sense since she only sees me sitting in my car! Then her boyfriend, Elijah, walked up. She has mentioned him to me before at the drive-thru window, so it was going to be fun to chat with him.
He had just graduated from high school, and the ceremony was coming up in a few days. I asked him how he got the name Elijah. He said he was raised in a church family and that his name came from the Bible. I ended up signing a book for him but told him to leave it open to the page where I had signed it.
I said, "Elijah, for your graduation gift, I will give you $20 for each book of the Torah—the first five books of the Bible—that you can name."
He got a big smile on his face. I know that smile. I have seen that smile. I have seen it in the mirror before. He was doing some calculating! He knew what $20 times five equals!! All I know is that if I had received $100 when I graduated from high school, it would have been a great thing.
Once when I was in high school, I was playing really bad basketball. It was one of those stretches where nothing was working. So before one game, my mom offered me 25 cents for each point I scored and 10 cents for each rebound I made during the game. Well, let's just say that during the entire game, the calculator in my head was working just fine!! I knew exactly how much mom owed me when I walked through the door that night!! I still laugh about that to this day!
Elijah answered, "Psalms and David." He was sure he had those two correct. Then he began to hesitate. He wasn't as sure now. He said, '"Levinthians." He also added, "Leviticus." And then he finished up with "Judah."
As you can tell, he wasn't going to make me go broke! So I repeated his answers back to him and put a $20 bill in the book for each correct answer he gave me. He was happy to get $20, but realized it could have been so much more. Now, I got out of the deal pretty good. Of course, it meant I had to find other people to give the remaining $80 to, but that wasn't a problem!
But as you can imagine, sadness hit me as well. How could a church kid not know the first five books of the Bible? How many other church kids out there would also get only $20?
As we continued to talk, Elijah and his girlfriend let me know that they believed there were many paths to Heaven. "How could there not be?" they reasoned. I have seen this rodeo before. Two plus two equals four in my book. If you don't know your Bible, any type of false teaching can creep into your psyche and you may not even know it. If the foundational truths of the Bible are not firmly embedded in your life, you will have no standard to measure error against.
Acts 4:12
Neither is there salvation in any other: for there is none other name under heaven given among men, whereby we must be saved.
1 Timothy 2:4,5
Who will have all men to be saved, and to come unto the knowledge of the truth. For there is one God, and one mediator between God and men, the man Christ Jesus;
John 6:67-69
Then said Jesus unto the twelve, Will ye also go away? Then Simon Peter answered him, Lord, to whom shall we go? thou hast the words of eternal life. And we believe and are sure that thou art that Christ, the Son of the living God.
Matthew 7:13,14
Enter ye in at the strait gate: for wide is the gate, and broad is the way, that leadeth to destruction, and many there be which go in thereat: Because strait is the gate, and narrow is the way, which leadeth unto life, and few there be that find it.
Romans 3:22
Even the righteousness of God which is by faith of Jesus Christ unto all and upon all them that believe: for there is no difference:
John 3:14,15
And as Moses lifted up the serpent in the wilderness, even so must the Son of man be lifted up: That whosoever believeth in him should not perish, but have eternal life.
John 17:3
And this is life eternal, that they might know thee the only true God, and Jesus Christ, whom thou hast sent.
John 14:6
Jesus saith unto him, I am the way, the truth, and the life: no man cometh unto the Father, but by me.
All of us should have these verses locked and loaded and ready to go. The exclusivity of the Bible and of Jesus Christ is nothing to be wishy washy about. He made the way of salvation as clear as a bell. Satan is the one who wants to muddy the waters. That is what he does. Our job is to present crystal clear truth to everyone.
As I was leaving the store, there is a mosque next to it. So I drove my car over to where a guy was getting out of his car in his long, flowing white robes. We began having a nice conversation about our religious differences, but he had to get inside for prayers because Ramadan was just starting. So I gave him a Second Greatest Lie booklet, which he was glad to have. He kept looking it over. He said he would be sending me some literature about Islam, which I told him I really wanted him to do.
But as I drove off, I began to wonder about something. I started asking myself the question: Did this Muslim man know the Koran any better than Elijah knew his Bible? I came up with the same answer you have probably come to as well.
Please pray for Elijah, since he also told me he is going into the Army. Pray that he will be surrounded by some good Christian men who will have a great influence on him. Also pray for the current set of graduates who are heading off to college or into the working world. Also pray for our youth. We are doing them a huge disservice if they don't even know the books of the Bible and don't even know that it teaches there is only one way to get to Heaven. Too many people believe the lies of the world. Too many people are entertaining themselves to Hell. Distractions are everywhere. People aren't hearing the way of salvation. God help us. Matter of fact, we need His help more now than at any other time in history.
Until the Nets are Full,

P.S. To listen to or watch Pray for B.O.B.:
To view the video:
https://www.youtube.com/watch?v=Y0zg9hzFVVE
To listen to the audio:
https://markcahill.org/teachings/sermons/