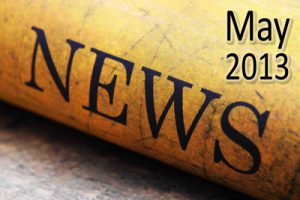 100%
You folks who know me know that I love a great encounter in which you get to share Jesus with a lost person. I find them so encouraging, and they help me to 'keep on keeping on' while I still have time. Some of the stories that you have sent me have really encouraged me, so I wanted to pass along a few of them to you. The first one is from a physical therapist who witnesses to 100% of his patients!
He shared with me:
"An employer sent one of their men in to me this week [who had] been in the army. I thanked him for his service and commitment. He grew up Baptist, [but is] now atheist. His girlfriend grew up Baptist, "but now she's agnostic—she's not really sure, but, I'm an atheist."
"Interesting. What evidence have you found that there isn't a God?"
Pause. "Well, all of the destruction and devastation and disasters in the world."
"So, you basically think, 'how could there be a God that would allow all of these things' you're talking about?"
"Basically."
"I appreciate your honesty. You're at least living what you profess to believe. I talk to so many people of all faiths from Hindu, to Buddhism, to Islam, to Christianity who do not live what they say they believe." He was nodding his head. "Let me give you something to think about…Did someone make that step-stool right there?"
"Yes."
"Right. You know that b/c that doesn't occur in nature, right?"
"Right."
"Everything in this clinic was made by someone."
"Right."
"My little kids can make a snow ball. If they made a snow ball and set it on the rail of the deck in CO, you would know someone made that and set it there because that doesn't occur in nature. But, monkeys can make that. In fact, when I went to the Serengeti, you can see monkeys make a ball out of their crap and throw it. But, they can't make a high-tech weapons system. Monkeys can't make an F-22 stealth fighter jet. When you have something that is more complex, it takes a higher level of intelligence to create it."
"Right."
"You can go to the Smithsonian today and see a model statue of DNA. If you took that statue and put in the yard right out here in front of the clinic, you would know that someone designed it, built it, dug a hole in the ground, poured the concrete in, put the post in the concrete, then attached the model to the post."
"Right."
"When you compare that DNA model in the yard to the DNA in your body, all three billion pieces of it, the DNA in your body is infinitely more complex than that statue in the yard. Infinitely. That means it took an infinitely greater intelligence to create it. The question is, Who created it?"
"I've never thought about that before."
"I don't have time right now to give you the rest of the story, but, I have a book up here where the author searched all of the world religions to see if there was any evidence to prove any of them true or not. Because, it doesn't matter what we believe, it matters what is true. Just like when you hold your weapon in the army. Does it matter if you believe there is a bullet in the chamber when you pull the trigger?"
"No."
"Right. It doesn't matter what you believe, it matters if there is really a bullet in the chamber. If you think there isn't one, but there is when you pull that trigger, it's going to destroy whatever it's aimed at."
"That's true."
"This book up here has all the evidence in it, so that you can know what is true. I'll give it to you for free if you will read it."
"I'll read it."
Awesome!
Remember to use logic when you are witnessing. Lost people love a good logical argument. It means that you have thought about your faith and means they should logically think about what they believe, as well.
This next story is from a father and son sharing their faith together. Read on!
"I live very close to a creation museum, and during the Christmas season this past year, we planned on inviting people out to see the Christmas Town display [they have there], so we picked up some extra fliers for it. My son (4 1/2 years old) and I normally go to Steak 'n Shake after church on Sundays for a special treat (it is normally just me and my son, since my wife is usually at home doing treatments for her cancer, which she is doing very well with by the way. We continue to praise God and give Him all the glory for what He is doing during this time!). Anyway, during this time, we took some of the fliers with us, and he gave them to some of the waitresses and the general manager. In the following weeks, he would ask them if they had gone. Well, one week, one of the waitresses came and told us that she had gone and really enjoyed it. We got to talking, and I found out that she does not have any religious background, however now she is wanting to "get into it more," because she wants to raise her child (I think a son) in church. She also told me that she has been doing bible studies with her boyfriend's family. She told me that the archeologist presentation at Christmas Town really answered some questions for her. I then asked her if she liked to read, and I went to my van and got a [copy of] One Heartbeat Away to give her; then we left. As I was literally driving out of the parking lot, I looked up, and another waitress we know was coming out to my van and waving me down. I thought she was going to tell me that she had been praying for the other waitress and thank me for talking to her. I was wrong. She asked me if I had any other books for her and another waitress. I only had one more with me, so she said she would give it to the other waitress, and I [said I] would bring more with me the next week. I took a stack with me the next week. When I started giving them out, everyone wanted one. The manager and general manager sent word that they wanted one also. The second waitress from the week earlier told me that she and her grandmother were reading it and really enjoyed it. I lost count, but I think I gave out around 10 books to the employees there. After this, we were not able to go [back] for about a month, because I was out-of-town for [job] training. During this time, one of the waiters and a waitress would e-mail me to check on my wife and see how training was going. In one of the e-mails, the waitress told me that the general manager had been let go and had sent her a text asking her to ask me for a book. Since I thought she already had one, I thought she wanted it for someone else. The next time we went, the former GM was there eating, and we were able to give the book directly to her. As we were talking, she told me that she never got a book (I don't know who got the book I had left for her earlier). She told me that since she is not working now, she "has a lot of time to herself in her head and has questions" and wanted the book that everyone else got to read. Easter morning when we went in, our regular waitress, the one that went to the creation museum, was not there. When we asked where she was, we were told that she had taken off [because] she wanted to "take her son to church, and to an Easter egg hunt". It has been truly amazing watching all this happen the last couple of months, and I am thankful to you for making it possible for me to give out all the books."
I found this to be an interesting encounter, since most of the time when a waitress comes running out of the restaurant, it is because I didn't pay my bill!! I have never had people run out for books before! Wow, what an encounter!!
I know that you know that it is more blessed to give than receive, but do you live it? Let's see what Josh did:
"Almost every weekday afternoon, I go to a bank to drop off deposits for my work. I've been going there for a long time, and I always try to be a light of Christ to the tellers by loving on them and encouraging and praying for them. This has opened the door for me to share the Gospel with several of the tellers over the years. On Friday afternoon, I was in the bank being helped by a teller, and I saw a man on the opposite end being helped by another teller. He was very frustrated, because he was missing $30 in his account and now only had 75 cents left. He wanted to understand what happened to his money. My heart immediately went out to him, because I've been in that place before. Immediately, I knew the Lord was prompting me to help him. I took $30 from my account and slowly walked over to him. I placed the money on the counter and when he looked up, I said to him, "This is a blessing from God. God bless you!" He was speechless. His entire expression changed as he stared at me. It looked like he was going to cry. The whole bank went silent in that moment. I turned around and walked toward the exit and every eye was on me and no one said a word. When I got outside, tears welled up in my eyes, because I had such an overwhelming sense that God was going to use this incident not only in this man's life, but also in the lives of the tellers I've been trying to reach for Christ. I have thought about that moment all weekend and reflected on God's provision and kindness. We are blessed by God so that we may bless others. When I stood at the bank counter and contemplated blessing this man with the money, I first wrestled with it in my mind, because I had great need for the money myself. Every dollar counts where I am financially. But I also remembered the many times, God has so faithfully provided for me in my time of need. I remembered you really can't out-give God! As I walked back to work, I smiled the whole way. God is our provider."
Joy is very contagious when you truly live for the Lord and obey what He commands us to do!
Revelation 22:16-21:
"I Jesus have sent mine angel to testify unto you these things in the churches. I am the root and the offspring of David, and the bright and morning star.
And the Spirit and the bride say, Come. And let him that heareth say, Come. And let him that is athirst come. And whosoever will, let him take the water of life freely.
For I testify unto every man that heareth the words of the prophecy of this book, If any man shall add unto these things, God shall add unto him the plagues that are written in this book:
And if any man shall take away from the words of the book of this prophecy, God shall take away his part out of the book of life, and out of the holy city, and from the things which are written in this book.
He which testifieth these things saith, Surely I come quickly. Amen. Even so, come, Lord Jesus.
The grace of our Lord Jesus Christ be with you all. Amen."
We will be meeting Jesus soon. As a matter of fact, 100% of the people you will meet before you die will also meet Jesus one day. So we might as well witness to 100% of them before we die and meet the Creator of the Universe!
Until the nets are full,