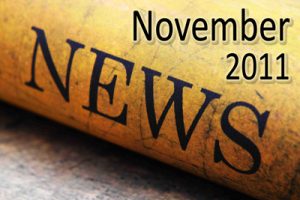 A Different Perspective
Seeing the world's reaction to the passing of Apple co-founder and CEO Steve Jobs has been interesting. It seemed like he was on the frontpage of every website when he died; and of course, he had been on the cover of Time magazine something like seven times during his life. He definitely was a popular man who made some big impacts on the world of technology during his years on planet earth.
To read some of the glowing reviews of this man, you would have thought he was Mother Theresa or something! So, I decided to do some research to see if I could find out more about him. Here are some interesting things that I learned:
• He sold one of his companies for $400 million and another (Pixar) for $8 billion!! That is a lot of nickels where I come from. But the Bible has many interesting things to say about wealth.
Matthew 16:26
"For what is a man profited, if he shall gain the whole world, and lose his own soul? or what shall a man give in exchange for his soul?"
• iTunes has sold over 16 billion songs.
How many of those songs that have been downloaded do you think glorify the God that Steve Jobs had to give an account to upon his death?
Revelation 20:12
"And I saw the dead, small and great, stand before God; and the books were opened: and another book was opened, which is the book of life: and the dead were judged out of those things which were written in the books, according to their works."
• "I have been shameless about stealing great ideas." —Steve Jobs   (http://www.youtube.com/watch?v=CW0DUg63lqU)
Exodus 20:15
"Thou shalt not steal."
• "Traversing India sparked Jobs' conversion to Buddhism. Kobun Chino, a monk, presided over his wedding to Laurene Powell, a Stanford University MBA.
• Jobs had a daughter, Lisa, out of wedlock with Chrisann Brennan. He denied paternity for many years, swearing in a court document that he was sterile. Later, he had three more kids with Laurene Powell.
• Perhaps the most salient of those values is, simply, to make an outsize impact on society. Or, as Jobs put it, 'We're here to put a dent in the universe.'"  (http://www.cnn.com/2011/10/05/tech/innovation/steve-jobs-philosophy/index.html)
Matthew 5:28
"But I say unto you, That whosoever looketh on a woman to lust after her hath committed adultery with her already in his heart."
• Steve Jobs credited using the drug LSD as a big part of his success. In an interview with The New York Times reporter John Markoff, Jobs once said, "Doing LSD was one of the two or three most important things I have done in my life." He added that Bill Gates would "be a broader guy if he had dropped acid once."  (http://www.thedailybeast.com/cheats/2011/10/07/steve-jobs-tried-lsd.html)
• The first Apple computer sold for $666.  (http://www.techfresh.net/apple-1-for-only-666-first-apple-ad-1976/)
Doesn't pretty much everyone know where the number 666 comes from? Here's a hint: Revelation 13:17-18.
• Apple's new CEO, Tim Cook, is a homosexual, and he is considered the most powerful homosexual in the Tech industry.  (http://www.out.com/power50/?slideshow_title=Fifth-Annual-Power-50&theID=2#Top)
• Apple pulled the app for a ministry called Exodus International that helps people get out of the gay lifestyle.  (http://www.huffingtonpost.com/2011/03/23/apple-exodus-international-app_n_839448.html)
So here is a ministry that is trying to help people get out of the gay lifestyle and Apple says no thank you.
• Security researchers have discovered that Apple's iPhone keeps track of where you go—and saves every detail of it to a secret file on the device, which is then copied to the owner's computer when the two are synchronized. The file contains the latitude and longitude of the phone's recorded coordinates along with a timestamp, meaning that anyone who stole the phone or the computer could discover details about the owner's movements using a simple program.  (http://www.guardian.co.uk/technology/2011/apr/20/iphone-tracking-prompts-privacy-fears)
Here are some quotes from Jobs himself:
"Remembering that I'll be dead soon is the most important tool I've ever encountered to help me make the big choices in life. Because almost everything—all external expectations, all pride, all fear of embarrassment or failure—these things just fall away in the face of death, leaving only what is truly important. Remembering that you are going to die is the best way I know to avoid the trap of thinking you have something to lose. You are already naked. There is no reason not to follow your heart."
—Stanford commencement speech 2005
"There's nothing that makes my day more than getting an e-mail from some random person in the universe who just bought an iPad over in the UK and tells me the story about how it's the coolest product they've ever brought home in their lives. That's what keeps me going. It's what kept me five years ago [when he was diagnosed with cancer], it's what kept me going 10 years ago when the doors were almost closed. And it's what will keep me going five years from now whatever happens."
—AllThingsD Conference, 2010
"That's been one of my mantras—focus and simplicity. Simple can be harder than complex: You have to work hard to get your thinking clean to make it simple. But it's worth it in the end because once you get there, you can move mountains."
—Business Week 1998
"Being the richest man in the cemetery doesn't matter to me…Going to bed at night saying we've done something wonderful…that's what matters to me."
—Wall Street Journal 1993
"You can't connect the dots looking forward; you can only connect them looking backwards. So you have to trust that the dots will somehow connect in your future. You have to trust in something—your gut, destiny, life, karma, whatever. This approach has never let me down, and it has made all the difference in my life."
—Stanford commencement speech 2005
(http://www.guardian.co.uk/technology/2011/oct/06/steve-jobs-quotes)
For the Christians reading this newsletter, do any of the above comments bother you? Does it bother you enough to do something about it? Why have I met so many Christians who seem to idolize Apple products? Why have Christians put 'RIP Steve Jobs' on Facebook, when nobody can rest in peace without the Prince of Peace?
I took one of my students from back in the day to a singles meeting in Atlanta called 7:22. They had a guest speaker that night. So after the worship time, he came out to speak and the whole beginning of his talk was about the Apple products that he owned. It went on and on about his love for those products. He then brought a trashcan on stage. I knew without a shadow of a doubt that he was going to throw those gadgets in that trashcan and make a point about his idol worship. Nope. Didn't happen. At the end of the night, as we were walking back to the car, my young friend said, "That man has an unhealthy addiction to his gadgets." It was the most obvious thing in the world.
My goal is to try and make sure I never give Apple one nickel of my money my whole life. I don't own any of Apple's products and plan on keeping it that way. You will not find my books in their download store. You will find them on Kindle and Nook, but not Apple. There is no need to email me about that decision. I do understand that there are problems with those other companies as well. But when are we finally going to make a stand for something that we believe in?
"Mr. Jobs spent his final weeks—as he had spent most of his life—in tight control of his choices."
"But for Steve, it was all about living life on his own terms and not wasting a moment with things he didn't think were important. He was aware that his time on earth was limited. He wanted control of what he did with the choices that were left."  (http://www.nytimes.com/2011/10/07/technology/with-time-running-short-steve-jobs-managed-his-farewells.html?pagewanted=all)
Mr. Jobs had the foresight to prepare four years worth of new products that will come down the Apple pipeline.
The only problem is that while it seems like he prepared for everything, he didn't prepare for his death.
He is quoted as saying, "No one wants to die. Even people who want to go to heaven don't want to die to get there. And yet death is the destination we all share. No one has ever escaped it. And that is as it should be, because death is very likely the single best invention of life. It is life's change agent. It clears out the old to make way for the new. Your time is limited, so don't waste it living someone else's life."  (http://www.guardian.co.uk/technology/2011/oct/06/steve-jobs-the-best-tributes)
I am afraid Mr. Jobs was wrong again. There are plenty of people who want to die. Paul said in Philippians 1:21:
"For to me to live is Christ, and to die is gain."
I can't wait to die! Dreams come true on that day!! Do you feel that way? While it's natural to want to live your life here on earth, aren't you at least a little excited about the last breath that you'll take? If you are not, examine yourself to make sure you are of the faith. Born again people have nothing to fear in death—they have the joy of finally getting to see Jesus awaiting them!
Sadly, Mr. Jobs was just another wasted life. His life and his death had no eternal value. God graciously allows certain people to have a slow death, so that they can repent of their sins and get right with Him before they die. The good news is that I do know of a man who witnessed to Steve Jobs! He was an Apple employee who took the necessary time to share with him about Jesus Christ. But because of Steve's rejection of Jesus Christ, there is a big problem:
John 3:36
"He that believeth on the Son hath everlasting life: and he that believeth not the Son shall not see life; but the wrath of God abideth on him."
"…salvation is freely offered to some while others are barred from access to it." (John Calvin, Institutes of Christian Religion, Book 3, Chapter 21, Paragraph 1)
No, Mr. Calvin was wrong. Salvation was offered to Mr. Jobs, and he had the total ability to accept it or the total ability to reject it. His rejection of what Jesus Christ did for him when He died on the cross at Calvary had consequences for him on planet earth, and now will have eternal consequences as well.
Apple's logo is an apple with a bite out of it. Ironically, the thing that Eve did is the same thing Mr. Jobs did. They both rebelled against God. And there will always be consequences for that.
As we are entering the Thanksgiving to God holidays, remember to be thankful for:
1. Your Salvation
2. That you are not wasting your life on things that do not matter
3. That you have breath to speak the words of eternal life to people
4. That your goal is to fight the good fight, to finish the race, and to keep the faith
Until the nets are full,

P.S. We have a few new talks up on the website for you to listen to. You can click here to hear them: https://markcahill.org/teachings/watch-videos/
P.S.S. We now have a website for people who want to help get the materials translated into other languages. If you would like to help, or know of people that can help out, you can click this link to get started: http://www.evangelismtranslators