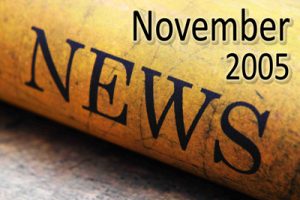 Thankful (2005)
1 Thessalonians 5:18
"In every thing give thanks: for this is the will of God in Christ Jesus concerning you."
Thankful. A simple word, but is it a word that I take for granted or is it a word that I truly live out? We think about this word during the Thanksgiving season, but are we really thankful? As first Thessalonians tells us, we need to be thankful in all circumstances. All. A simple word, but am I really thankful in all circumstances?
Do I just thank God when good things happen, or can I thank God when things don't look so good? Watching television the other day, they were talking with a family that had gone through hurricane Katrina. The family was very disappointed that the federal government had not helped them at all. But then, he said there was a local church that helped out so much and had been such a blessing to their family. An article on the internet stated that the author walked into a church in Memphis. And he stated that it was the most beautiful scene as all of these white mothers were rocking black babies in these rocking chairs as all of their moms were resting after being relocated after Katrina. Can we thank God for hurricanes that make believers do what we should have been doing anyways?
Luke 2:38 says,
"And she coming in that instant gave thanks likewise unto the Lord, and spake of him to all them that looked for redemption in Jerusalem."
Anna knew when she saw Jesus that He was the Savior of the world. But she couldn't just keep that to herself. She had to tell others of the redemption that He would lead many to. She was thankful.
I was going to Stone Mountain Park a while back. I got into a talk with a lady at the gate. I ended up giving her my first book One Thing You Can't Do In Heaven. Later that day, she was shot and killed during a robbery. I found out this week that another lady who works there saw her reading the book that day. She asked what are you reading? She responded she was reading this book to find out if there was anything out there after she died. She found out that evening exactly there is out there when you die. Can I be thankful that I had one last chance to give her that truth before she died?
Romans 1:21 says,
"Because that, when they knew God, they glorified him not as God, neither were thankful; but became vain in their imaginations, and their foolish heart was darkened."
The problem is that when we know who God is and we are not thankful, our foolish hearts will take us much farther away from God. I was traveling the other day and flipped on the radio. It was the opening for a talk show. The opening was: "And you shall know the truth, and the truth shall make you mad." The truth of God makes us free not mad. This show mocks the things of God, and was even mocking me for a couple of days when I wound up in the local newspaper. Instead of getting mad that they are mocking God's word, shouldn't I be thankful that they are at least reading the Bible to find quotes out of there that they want to turn in a different direction? Shouldn't I be praying that they read the Bible more and that God will open those Scriptures to them?
Shouldn't I be thankful when I met Ronnie in Asheville, NC? He couldn't believe in what he was taught as a kid as a Protestant because that would mean people like Gandhi and Buddha would be in hell. He was very open for a conversation and took my new book One Heartbeat Away. Can't God save that soul as He did mine?
Matthew 15:36 says,
"And he took the seven loaves and the fishes, and gave thanks, and brake them, and gave to his disciples, and the disciples to the multitude."
So many times I just take meals for granted, but shouldn't we all be so thankful for the food that the Lord puts before us? The meal that I am not thankful for would be a feast for anyone going through the after effects of a hurricane, earthquake, or tsunami.
Why sometimes aren't we thankful for the simple things in life? This past week someone ordered 5000 copies of my new book, someone ordered 1500 copies, and someone else ordered 960. That just blew me away. People are telling me that they are also getting them for stocking stuffers and Christmas gifts for others. Shouldn't I be just as thankful when someone orders one book or if they order 5000? Why do we sometimes look for quantity in life as the verifier if something is good and not quality? What if you wrote a book and you didn't sell a copy but made it available for free on the internet? Whether a book sells or doesn't sell isn't the issue. The issue is whether that book glorifies the God of the universe or not.
I ran into a lady the other day at the post office. She came up and gave me some money for a book that I had given her at the post office a while back. When I walked outside, she and her daughter were walking around handing out tracts to people. She looked at me and said, "I learned that from you." People are listening to the message of reaching the lost. We should be thankful.
1 Corinthians 15:57 says,
"But thanks be to God, which giveth us the victory through our Lord Jesus Christ."
The following is part of an email that I got from a lady:
I am so excited to read and share your books with some family members who need the Lord so much. I am disabled, I have Lupus, Fibromyalgia, Osteoporosis, and many more problems. I am slowly becoming crippled and am on 27 pills a day for various problems including severe pain. My brother, Paul, passed away 2 years ago from the same disease and suffered as I have never seen a human suffer before. Even in his last days and weeks we would read God's word together, which was so awesome as He never really discussed Christ much before, but that last year he drew so close to God! I know my time is coming but not for awhile because God has plans for me that are unfinished.
Margie is thankful for what Jesus has done for her and continues to do through her. Are you? Make sure you are thankful enough to tell someone about the Savior of the world during this holiday season.
Until the nets are full,