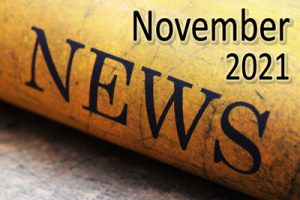 Optional Part of Christianity?
While speaking at a men's retreat recently and giving a talk about witnessing, I cited Matthew 4:19, which says, And he saith unto them, Follow me, and I will make you fishers of men.
Say What?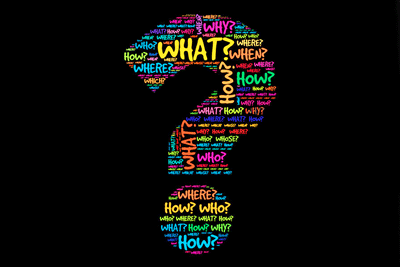 During this talk, I stated that sharing your faith is not an optional part of Christianity. We are called and commanded to spread the gospel. As I was explaining this, I used the word mandatory. I said that witnessing is a mandatory part of the Christian walk.
When I give that talk, I make time for Q&A. It is really a lot of fun because I get all kinds of questions from the audience. Right at the end of the Q&A, a gentleman asked me something along the lines of this: "If you are saying that witnessing is a mandatory part of Christianity, doesn't that mean you are talking about a works-based salvation?"
It Is Written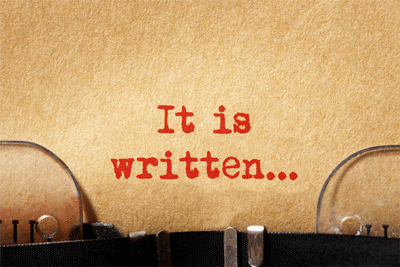 He posed an interesting question that I have never been asked before. So the group and I talked about a few different things regarding that subject. One thing I explained was how there are a lot of mandatory aspects of the Christian walk, and each of us are supposed to do them.
Praying:
1 Thessalonians 5:17
Pray without ceasing.
Attending church:
Hebrews 10:25
Not forsaking the assembling of ourselves together, as the manner of some is; but exhorting one another: and so much the more, as ye see the day approaching.
Raising children in a biblical manner:
Ephesians 6:4
And, ye fathers, provoke not your children to wrath: but bring them up in the nurture and admonition of the Lord.
Obedience is very high on God's list for those who follow Him:
John 14:15
If ye love me, keep my commandments.
Luke 6:46
And why call ye me, Lord, Lord, and do not the things which I say?
It looks like the Bible is saying that true obedience is a matter of love:
John 14:23
Jesus answered and said unto him, If a man love me, he will keep my words: and my Father will love him, and we will come unto him, and make our abode with him.
If we love our parents, we will obey our parents. If we love God, we should want to obey God.
Not Guilty!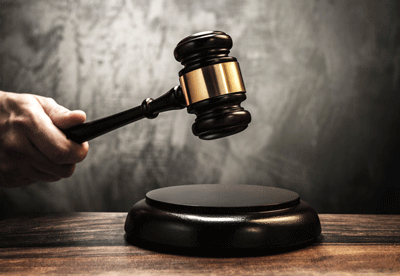 Thinking back on that discussion time, I could have answered that man's question in a different way. What I think now is that he could have been mistaken about the difference between justification and sanctification.
When we think about what the Bible says about justification, it's the moment when God declares the believing sinner justified in a legal sense.
According to one theologian,
"[T]he root idea in justification is the declaration of God, the righteous judge, that the man who believes in Christ, sinful though he may be, is righteous is viewed as being righteous, because in Christ he has come into a righteous relationship with God." (Ladd, G. E., A Theology of the New Testament, Eerdmans, 1974, p. 437)]
Romans 3:21-26
But now the righteousness of God without the law is manifested, being witnessed by the law and the prophets;
Even the righteousness of God which is by faith of Jesus Christ unto all and upon all them that believe: for there is no difference:
For all have sinned, and come short of the glory of God;
Being justified freely by his grace through the redemption that is in Christ Jesus:
Whom God hath set forth to be a propitiation through faith in his blood, to declare his righteousness for the remission of sins that are past, through the forbearance of God;
To declare, I say, at this time his righteousness: that he might be just, and the justifier of him which believeth in Jesus.
Acts 13:39
And by him all that believe are justified from all things, from which ye could not be justified by the law of Moses.
We are justified by God through faith in the blood of Jesus Christ. Period. Just like the thief on the cross.
Set Apart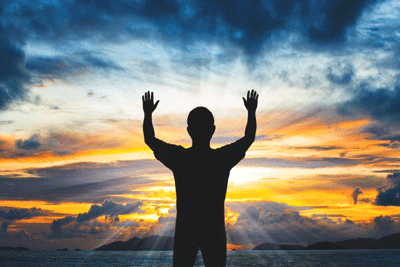 But there is another aspect of being saved that believers need to be excited about, and that is sanctification. Sanctification is setting something apart because it is holy. Believers are set apart for God. We are to be separate from the world. We desire to be Christ-like. We are being molded and shaped into the men and women of God that He wants us to be.
1 Corinthians 1:30
But of him are ye in Christ Jesus, who of God is made unto us wisdom, and righteousness, and sanctification, and redemption:
John 17:17
Sanctify them through thy truth: thy word is truth.
Our walk with the Lord is different from our justification. When our sin debt is paid in full, it is Paid in Full!! Hallelujah!
No Regrets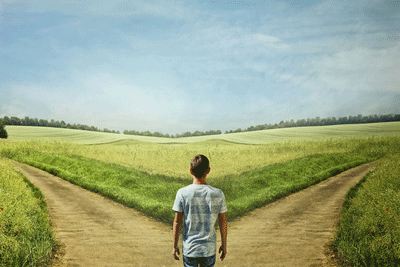 After being saved, we embark on a very fun journey. It is the process of Christ molding and shaping babes in the faith—biblical men and women—into becoming warriors for Him. What a fascinating adventure it is.
Now, along that journey, we can all make a conscious choice in certain areas not to obey God. We can say, "No" to obeying Him, and just go along on our merry way. That might work for a while, but because God disciplines His children, He will shine the spotlight on those areas and get our attention. And, of course, one of those big areas is soul winning. We can't just keep saying, "It is someone else's job." It is our job. Why? Because God commanded us to preach the gospel when He gave us the Great Commission.
Mark 16:15
And he said unto them, Go ye into all the world, and preach the gospel to every creature.
Will soul winning matter when we meet the Most High God? You better believe it will!
1 Corinthians 3:10-15
According to the grace of God which is given unto me, as a wise masterbuilder, I have laid the foundation, and another buildeth thereon. But let every man take heed how he buildeth thereupon.
For other foundation can no man lay than that is laid, which is Jesus Christ.
Now if any man build upon this foundation gold, silver, precious stones, wood, hay, stubble;
Every man's work shall be made manifest: for the day shall declare it, because it shall be revealed by fire; and the fire shall try every man's work of what sort it is.
If any man's work abide which he hath built thereupon, he shall receive a reward.
If any man's work shall be burned, he shall suffer loss: but he himself shall be saved; yet so as by fire.
One point I left with the group was to die with no regrets. We don"t want any regrets when we stand in front of God, especially in the area of soul winning. We should be thinking about having no wood, hay, or stubble burned up in front of the Bema seat of Christ but plenty of gold, silver, and precious stones on that day.
Let the Master Builder mold you into a great soul-winner all the days of your life. Be a great soul-winner who will die with no regrets! Press on and finish well!
Until the Nets are Full,

P.S. It is really exciting when we receive feedback from people who have that fire for witnessing ignited in them! Kathy is fully on board with reaching the lost!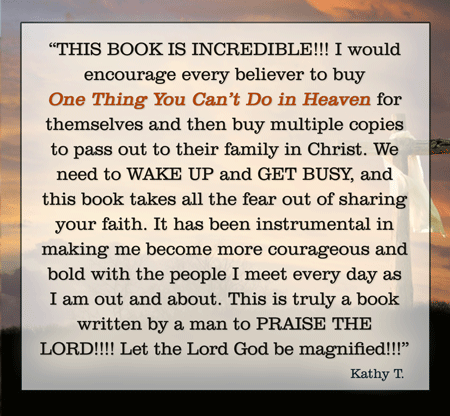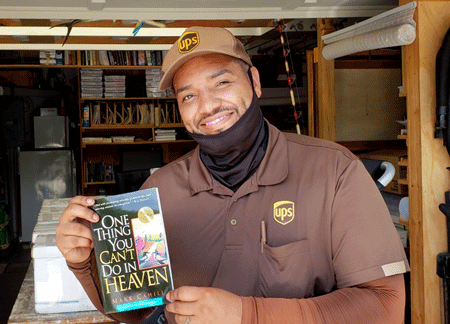 P.P.S. One Thing You Can't Do in Heaven is a great book to show people how easy and important witnessing really is. And, the bonus is embarking on a life that the Lord will use in amazing ways. Truly, the sower and reaper are glad together, and so is the lost person who understands the gospel and is saved! What other work on earth can compare to it?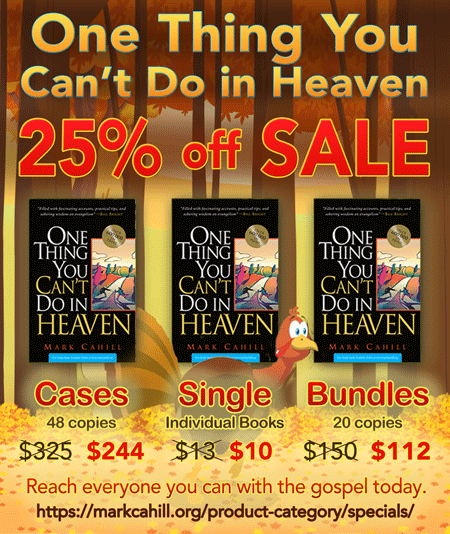 https://markcahill.org/product-category/specials/