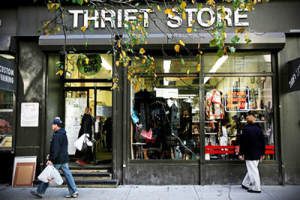 Christmas Shopping at the Thrift Store
Hi Mark,
Diana and I went to the store to get some socks yesterday when we met Kimberly (Kimmy).  At first, she was looking at the same socks as me. Then while we talked to her, we found out that her husband recently lost a leg due to disease, she has had three trachea surgeries and cannot talk more than a whisper, her seven-year-old granddaughter has died, and her daughter needs a heart transplant. All of this has happened in the past five years. We talked to her about God in those difficult times. She said she had a lot of anger with God right now. I asked her if we could pray for her. She started crying so hard. By the time we left, she was smiling and thanking God for Him bringing us to her. Here's the thing…we were driving down 103rd street, and Diana asked me if we had passed the Roses store. I said yes and asked her if she wanted me to make a U-turn. She said no in a somber tone. When I hear that tone I know she really wants to go there, so I turned around, and God brought us all together!  It was awesome!
We then went to a thrift store and found brand new toys (about 100 in all), each with an original price of .97 cents. The lady told us we could take them all at 40% off! We got to the checkout and told the lady that we were buying these for homeless children. The lady sold all of them to us for $3.00. God is good.
To top it all off, Dylan (one of the students you met) skipped school this past Monday and Tuesday. He was embarrassed that he did not have $5.00 for the gift exchange or food to bring for the school party. I told our director, and he said they will change the policy for next year so no child feels burdened for parents not having money. I told some friends of ours and the outpouring of love for Dylan has been amazing. His family will be having a very nice meal for Christmas thanks to God. Ham, potatoes, vegetables, bread and drinks have all been donated to his parents. The hug from Dylan and his parents was a blessing to us.
We wanted to encourage you today. It's not just your teaching on evangelism that we are thankful for, it is your love for others that has inspired us to follow your example, and, hopefully, be an encouragement to others ourselves. Continue being bold and loving. People are watching and learning from you.
It is not just the birth of Christ that we remember this time of year. It is Christ, All in All. His very essence, His character, and His devotion to the Father, even to death on the cross! We serve a Risen Savior! ALL PRAISE GOES TO HIM.
". . . To them that are in darkness, shew yourselves,"  Isaiah 49:9
Brian and Diana
God is able to use any of us anywhere at any time.  Brian and his wife Diana want to be used by the Lord so they look for opportunities to share the gospel everywhere they go. And God does not disappoint!  And remember, fellas, always be alert to that somber tone from your spouse!
They are bold and loving as they share their faith. They also use the Ten Commandments to help show people their real need for a Savior. Make sure to keep doing the same for all of 2017, as well!
Until the Nets are Full,