Second Chances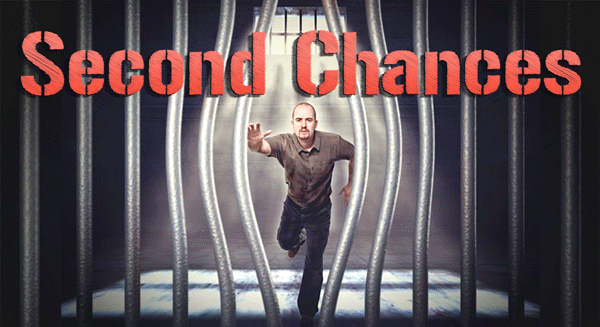 Sometimes, I will just get in my car and drive around to different gas stations to hand out tracts and strike up conversations with folks. They are also good places to find some street people to bless and run into day laborers.
I stopped at a gas station last night and struck up a conversation with a gentleman there. As the conversation progressed, I asked him if he liked to read. He said he did. When I hear that someone likes to read, I typically ask, "Fiction or non-fiction?" He stated that he liked both. So we walked over to my car where my back hatch was open. I picked up One Heartbeat Away and Paradise and let him choose between them.
He looked at One Heartbeat Away and said, "I have already read that one." Well, that was a shocker! I asked where he ran across the book. He looked at me and said, "I read it when I was in prison." That even led to an even more fascinating conversation. He was a man of good, strong character. He was back on his feet, living right, and providing for his family. We had a great give-and-take. Some good, eternal seeds were planted.
Remember that we all need second chances, as well as third, fourth and umpteen numbers of chances. And that includes both you and me.
Jonah 2:1-3
Then Jonah prayed unto the LORD his God out of the fish's belly, And said, I cried by reason of mine affliction unto the LORD, and he heard me; out of the belly of hell cried I, and thou heardest my voice. For thou hadst cast me into the deep, in the midst of the seas; and the floods compassed me about: all thy billows and thy waves passed over me. 
I received the following note from a friend of the ministry:
"I once took forty books―One Heartbeat Away―into Phillips State Prison in Buford, Ga and gave one to each of the forty participants in a KAIROS Ministry."
―Wayne 
Matthew 25:36
Naked, and ye clothed me: I was sick, and ye visited me: I was in prison, and ye came unto me.
     Help someone with a second chance today by telling them about what Jesus has done for them. It will be a great day for you and a great day for them!
Until the Nets are Full,

P.S. Our Non-Fiction Bundle continues to be on sale. These materials are a great way to get pumped up and equipped to be ready to go and share your faith! And there's no better time than now to get started. Get ready for the holidays, which are coming right up.

https://markcahill.org/product-category/specials/
P.P.S.