Reaching Your World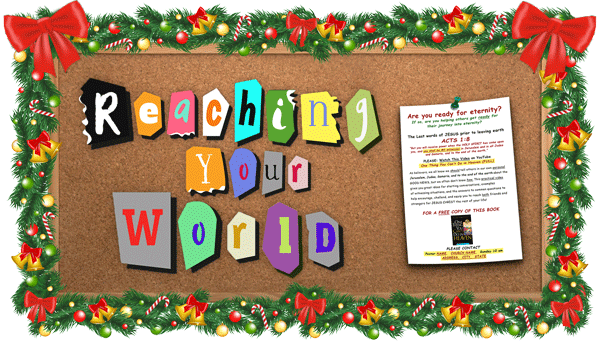 We heard from someone this week that follows the ministry. He loves to share his faith and came up with a unique way to get Christians fired up to do the same. He put this bulletin-insert idea together and sends it to churches. He offers to give One Thing You Can't Do in Heaven to those who request them. He also recommends that they watch the video by the same title. It's a great way to get a congregation trained up and ready to hit the streets! It's also an idea you could try at your own church, in your Bible study, or for your Sunday School class. Neat idea.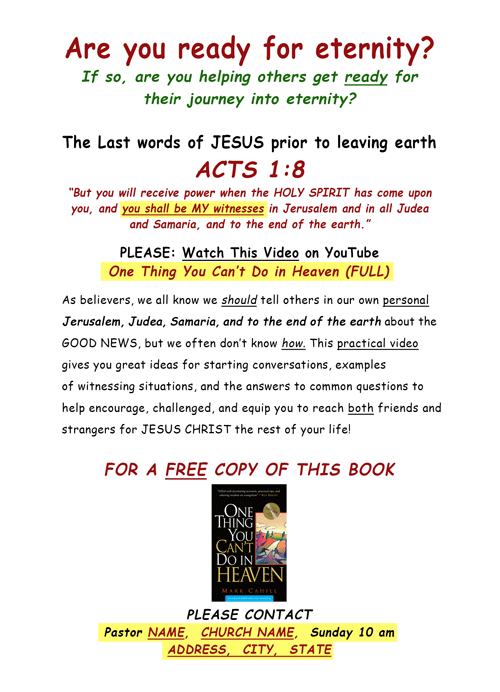 Hey, Brother Mark,
     Fantastic reception today by a pastor in Gardnerville, NV.  He knew of and appreciated the ministry of Mark Cahill.
     He accepted the "One Thing…" FREE  book offer for the congregation via the bulletin-insert method, which he will use next Sunday.
PTL!!                                                
Rich
________
Reaching the lost is one of the chief ways of glorifying the Lord. It honors His sacrifice and proclaims His immense love for the lost. It also unites a congregation in singleness of purpose in training of the truth, learning how the Lord is moving today, prayer, and more. Focusing our attention on them takes the focus off of us and off of the world.
Matthew 5:14,15
Ye are the light of the world. A city that is set on an hill cannot be hid. Neither do men light a candle, and put it under a bushel, but on a candlestick; and it giveth light unto all that are in the house.
Jesus came into the world to save sinners and He has left you in the world to do the same!
Until the Nets are Full,

 
P.S. Encouraging others to share their faith is an often overlooked part of the Christian life. To help you encourage Christians to share their faith and to make it easy for them to do so, we have put our cases of books on sale for a suggested donation of $225. That is 25% off of the regularly suggested donation.
There is no time like now to be reaching Christians with the tools they need to be effective witnesses for Christ!  One Heartbeat Away, One Thing You Can't Do in Heaven, and The Watchmen can seriously move them in that direction.
One Heartbeat Away is the best of these books for handing out to lost people. It is perfect for answering the questions of lost people.
One Thing You Can't Do in Heaven is a great "how to" book for Christians that is easy to read, full of stories, and is helpful in addressing the witnessing concerns that Christians tend to have.
The Watchmen drives home for Christians the seriousness of the destiny that awaits the lost. No one wants them to go there, and none of them want to be there.
     So come up with some unique ideas of your own for reaching out to others with the need to witness. Also, keep putting into practice what you've learned, day in and day out!
     Have the best holiday season yet giving your best to the Lord!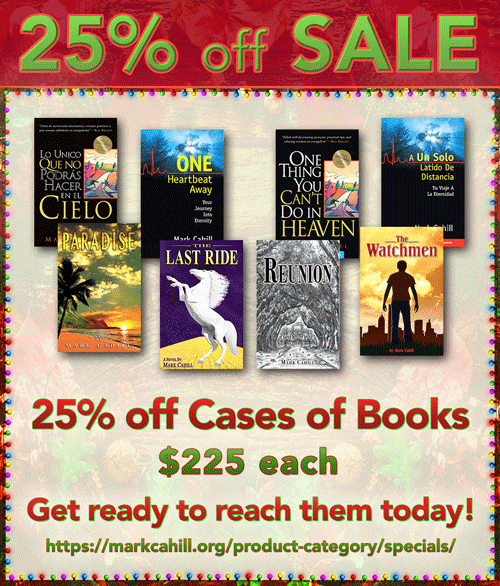 https://markcahill.org/product-category/specials/
Back to Testimony Time