Quenching their True Thirst
Springtime is upon us, and as the weather heats up, people are going to get thirsty―very thirsty. So, whether they imbibe with a soda or something a little stronger, it might not be a bad time to reach them with eternal truth:
Hi Mark,
I have an interesting and true story to tell you about your tracts. I serve on the local advisory board for a women's addiction ministry, along with other ladies, one whose husband is not a believer. 
At a recent meeting, she shared how inside one of her husband's beer cases, he found a Freedom tract from Mark Cahill. She was thrilled. 
I humbly told her that unfortunately, you were not in town. I also said that when my husband and I are at the grocery store, he goes to the beer aisle and slips your tracts inside the cases of beer. (It was actually encouraging for my husband to hear that maybe his efforts were paying off.) 
I also mentioned to her that, years ago, an inmate at a local detention center told me how your book had changed her life. So, she asked me to try to find it for her. I found One Heartbeat Away and read it (my policy) before I took it to her. 
After that experience, my husband and I have been distributing your literature and tracts. 
Well, another board member asked to read it, since she had just asked God what He wanted her to read next. I gladly brought her a copy  of One Heartbeat Away,  One Thing You Can't Do in Heaven, and a handful of tracts. I told her they were a gift because once she read them, she wouldn't want to return them. 
Thank you for providing such excellent witnessing tools. God is so good.     
Love in the faith,   
Betty
________
Psalm 126:6
He that goeth forth and weepeth, bearing precious seed, shall doubtless come again with rejoicing, bringing his sheaves with him.
Mark 4:26,27
And he said, So is the kingdom of God, as if a man should cast seed into the ground; And should sleep, and rise night and day, and the seed should spring and grow up, he knoweth not how.
Cases of soda and beer are very easy containers to slip a gospel tract into. I can't wait to see how God has used some of those seeds that were planted inside of them.
But remember to open your mouth. Speak boldly. Folks need a refreshing "spring" of living water in their lives!!
Until the Nets are Full,

P.S.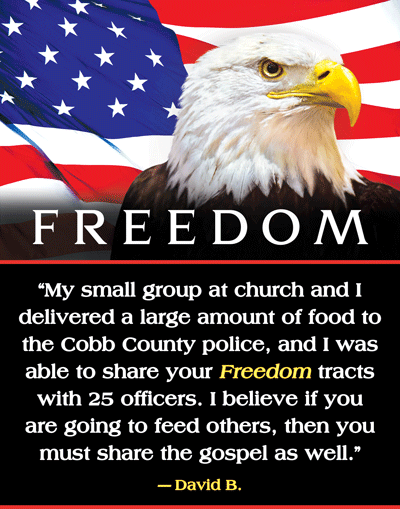 To pick up Freedom tracts or any of our other gospel tracts for yourself, your local ministry, or your church group,
visit the link below:

https://markcahill.org/product-category/tracts/
P.P.S.  Don't be wishy washy.
https://media.gab.com/system/media_attachments/files/102/544/712/original/a92e81acc2d6ac2e.mp4