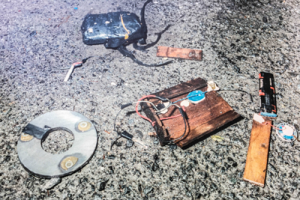 A Consultant from Northern Ireland
Hello,
My name is Charlotte. I want to share my Testimony with you to encourage you and maybe challenge you in your walk with the Lord. More importantly, if you are not yet "born-again," I trust you will give it some consideration after reading my testimony.
I'm always struck by the Scripture verse: "But sanctify the Lord God in your hearts: and be ready always to give an answer to every man that asketh you a reason of the hope that is in you with meekness and fear: (1. Peter 3:15). In fact, I have it written inside my Bible to remind me to be Holy Bold wherever I go and of the urgency attached to sharing the Gospel with the lost.
Life wasn't always so clear-cut for me, and like any other teenager, I was loaded down with questions and more questions about life. My home was a loving home with Godly parents who not only taught us from the Word of God daily but displayed their Christian faith in their everyday actions. What I'm saying is they walked the talk!
My questions about being "saved" and this idea of a loving Heavenly Father started for real when I was about eight years old. Why do I remember the significance of being eight? My father had just passed away suddenly from congestive heart failure. I remember becoming enraged, embittered, hard and resentful of the idea that a supposedly loving God would take my dad from me at eight years of age! My dad was preaching God's Word, day in and day out. Only hours before his passing away, he had conducted the Sunday evening fellowship service.
From then onwards, I set about trying to live my life, my way; any mention of God sent me into a frenzy of rage. The idea, often mentioned by my mother, to start reading my Bible again was met with wild resistance and disdain.
So now, I'm starting out in my work life, always wanting to be the best at everything I do. I am never happy to settle for the 8 /10 in exams or second place in the 100 metre sprint or being a keen target shooter because I need to be a "marksperson".  I craved excitement and challenges in my life. I never looked at a problem as being a problem but only and ever as challenges to be overcome. I found that I was widely accepted as being good in my chosen field.
I was offered a job with the Security Services, which excited me greatly. It was my dream job getting paid for things I liked to do—well paid at that while travelling the globe. What could be any better for a young individual starting out in life, but I forgot to think about the high risk factors involved in performing such a job because I was so wrapped up in the excitement of it all.
So intense was my work life that I became immune to death and dying. You have to detach and disassociate in order to survive crisis situations involving war; it's not normal—it's like a kind of game, a serious game. Strangely enough, the notion that I may ever be killed never entered my head because I had become so detached from reality. I always thought it will never happen to me; it only happens to other people. We all think that, don't we?
A sequence of events that took place later in my life was to change that pattern of thinking and change it quickly. I guess the Lord had enough of my selfish, stubborn nature and needed my attention before it was too late (His timing).
From childhood, I'd always known about my need for Salvation. Whilst visiting my mum from time to time, she would always say to me, "You need to assess your life, where are you going, you haven't a care in the world?" It made me think more than she will ever know. In fact, it got me thinking so much one day that I went and met a man I knew who would pray with me and for me. So, in his office at his place of work and being under deep conviction about my sinful state, I accepted for the first time in my life that I was a sinner in need of God's grace. Humbleness came over me as I repented of my sin before God. I finally, totally believed (John 3:16) "For God so loved the world that he gave his only begotten Son, that whosoever believeth in him should not perish, but have everlasting life." It was the first Scripture verse I had memorised as a child; yet it was so elusive until then.
I went out of that office with a different kind of feeling—a feeling of reassurance that I'm no longer on my own and I don't have to fight all these battles on my own. I prayed daily for God's guidance and protection upon my life. I prayed that I would do His will and not my own as before. Behold, all things become new, not just some!
At work I was facing critical life and death matters. My own life now lay in the balance because of my chosen job life, which made me a direct target for terrorists. I received death threat letters telling me I was going to be killed, no time or date—they weren't that kind. My bosses at work assured me terrorists never personally targeted individuals (me) unless you had stepped on their toes and were too good at your job! I never knew you could become "too good" at your job; I thought that was what life was all about! Were those comments by my bosses supposed to reassure me? If so, they didn't work. I got into my vehicle to drive to work one winter's evening, started driving, and something fell from below my car. I drove over the object with my rear tyre. It was an undercar booby-trap bomb containing 2lbs of Semtex explosives, enough to blow a small village up, not just me. Then a few months later same thing again, so I guess they really did mean to kill me. On both occasions, I left my vehicle uninjured, other than extreme shock. Both devices failed to explode. Even though one of the bombs had three different mechanisms to set it off, it still failed—explain that? Several incidents left me feeling numb. Now I was the hunted rather than being the hunter.
I still prayed and read my Bible, but I became cold and detached loosing trust in just about everything including myself. Then I recalled God's promises to me that He would never leave me nor forsake me and that He was with me even in the midst of such disaster. The words of (Luke 10:19) came to me: "Behold, I give unto you power to tread on serpents and scorpions, and over all the power of the enemy: and nothing shall by any means hurt you". Now, I don't suggest for one moment that you try testing it out by sitting on top of a bomb. It's God's timing, not ours.
During my time which followed, I had been off work for rehabilitation so I had time to get caught up with the items that individuals had given me to read and listen to (Godly matters) for encouragement. One particular item was a DVD entitled "Lukewarm No More" taken from (Revelation 3:16) and authored by Mark Cahill, which had a profound effect on me. If you ever listen to this sermon and are convicted as much as I was, you will definitely know you are a lukewarm Christian. The way Mark described the lukewarm state and my understanding of being lukewarm convicted me so intensely that I fell to my knees in prayer with that horrible state of nothingness and the sense of missed opportunities and wasted time as the realisation that I could have been sharing God's Word all flashed before my eyes. So often we claim to be spiritually "rich" or fervent for the Lord, but in truth we are lukewarm and it repulses the Lord greatly—makes Him sick. To me being Holy Bold is not about being a passive Christian. You never know what lies around the corner for you, and it might just be you who gets the wake up call like I did.
Genuine disciples of Jesus should be active soul winners; there is urgency in it you must know that lukewarm should never be a feature in a Christian life. True Christians are not weak. We need to be totally available to do His will at His command; we each shall give an account. Oh dear, there's that word that no one likes, accountability!
Now I strive to be the best with the measure God has given me to share God's Word, His forgiveness, and His deliverance and protection for us all as I go about my daily life.
I get to travel a lot through work and to meet individuals from all walks of life—from Royalty to Government Officials to terrorists and those in-between. I don't mind who I share the Gospel with, they are all the same in God's eyes, in need of Salvation. I have, with the help of some willing accomplices, been able to get Mark's book called One Heartbeat Away into some of the strangest places imaginable, only God knows how to do that.
So, Mark, thanks for the hundreds of books you have supplied for me, which are now in the right hands in far-flung, distant places. I'm honoured to call you my Brother in the Lord.
For those of you out there who still haven't decided and are missing the bigger picture, He's waiting for you. Be encouraged, don't leave God completely out of the equation, you will need Him just as I did.  Try going beyond that closed door to see what really happens. Who knows? God knows!
Charlotte
Northern Ireland
Police Officer, Home Office, London: Consultant
P.S.: Charlotte is setting an example of witnessing to everyone she meets. She's also an example of loving others. She goes back into prisons and witnesses to the terrorists that she has arrested! We are not talking petty criminals but the real deal here. Lots are now saved, and she keeps in contact with some of them. Praise ye the Lord!!
Until the Nets are Full,