45 Times in Jail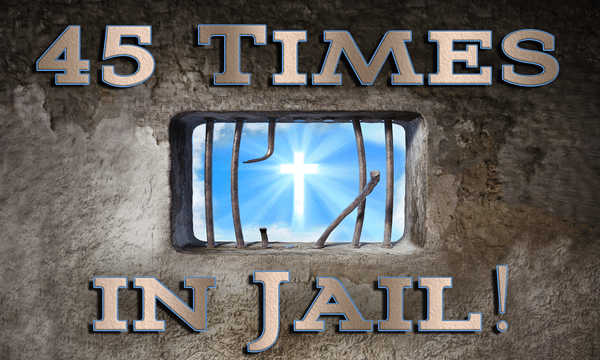 Do you ever find yourself being thankful for your upbringing? Maybe you were not raised exactly how you wanted to be raised, but you can still be thankful.
We received this Facebook message the other day from someone who is thankful for how things have turned out for him in the end:
Good Morning, Mark,
God bless you. It is another blessed day to be alive. So, my name is Jacob, and I have lived a life of sin and destruction. Growing up as a really bad drug addict for 18 years, I'm now 26, turning 27 in August. I have been to jail over 45 times, but July 7th, I got released from prison, which was just a couple of days ago. Growing up, I never thought about God. I knew that He was real, but I never believed before I went to prison.
I was living with my oldest brother, who had never really been in my life because when I was a kid, he sexually abused me and my other brother. When I was in rehab, he reached out because he became born again and wanted to try to get me into believing the Word and Jesus Christ. I got out of rehab and went to live with him. Now, we go to church and talk about the Bible and go to the Bible studies on Sunday morning and stuff like that.
Well, I had backslidden—started doing drugs and ended up in prison. I just did another year, and when I was in my correctional institution in Wisconsin and in prison, I got into the Bible more than I ever have. I would go to church while I was in prison, and after the coronavirus lockdown, we would still have church, but they limited it to ten people per service. They stopped having speakers come in to talk, so they played videos for us. Your video was one of the ones they played the most, and they also had your books. I've read all three of your books.
I want to thank God for you and for the things you do for people. Because of you, I have a better understanding of God and a better understanding of where I'm going to go when I die. I'm so thankful for God and for people like you that God works through. I'm lost for words.
As far as what God has done for me and my life, it is a blessing. I've overdosed over fifteen times, crashed a truck into a telephone pole at 85 miles an hour in the past, and been saved by the grace of God numerous times. All of my drug-addiction hardships and struggles brought me to my heavenly Father. Going to prison opened my eyes and made me realize, for one, I wasn't living right, but, two, I needed a Savior. It's because of you and God that I got saved and got born again. Because of what you do for the world and for God, I want to thank you so very much. God bless you. I really don't know what else to say. Man, thank you so much for everything that you do. Mark Cahill, you are an amazing, amazing child of God.
Jacob S.
Jacob is so thankful to God that he's thanking those who have helped him understand truth.
Luke 17:18
There are not found that returned to give glory to God, save this stranger.
Ezra 7:26
And whosoever will not do the law of thy God, and the law of the king, let judgment be executed speedily upon him, whether it be unto death, or to banishment, or to confiscation of goods, or to imprisonment.
Prison is not always a bad thing. It is necessary in most societies. There are rules and laws that have to be followed for society to function properly. We have heard from so many people who were saved either during or after their jail experience. The Lord has many times used incarceration to get people's full and complete attention.
God is good. I can't wait to get to the other side. It will be a glorious day. Are you reaching out to the hurting? Giving them some truth wrapped in the love they are looking for? No one is beyond hope. If God can reach you, if He can reach me, and if He can reach Jacob, then He can reach anyone.
Until the Nets are Full,

P.S. Remember to invest in the eternities of everyone around you.