Time to Leave – Feedback
We received a lot of feedback from last week's newsletters Time to Leave, which covered some of the false teachings in the Charismatic movement. If you haven't read the newsletters, or if you want to watch or re-watch the videos in them, you can click on the links below:
https://markcahill.org/time-to-leave-part-1/Â  Â  Â  Â  Â  Â  Â  Â  https://markcahill.org/time-to-leave-part-2/
Last week, we heard from folks who were passing around the newsletters and getting the information out to others. With all of the false teachings in the church today, it is very important to flood your circle of life with as much truth as possible.
After reading Part 1 of these newsletters, Colleen, who has first-hand knowledge of these practices, wrote in with a very interesting admission:
This was a fascinating article by Alfred Pohl! I am going to go back and read all of it through the link provided. For many years, I am ashamed to say, I faked speaking in tongues to be like everyone else in my church. Jesus Christ totally transformed my life; there's no doubt about that! But everyone in my non-denominational church was speaking in tongues. So I went up to the altar many times for prayer to receive the "Baptism of the Holy Spirit" with evidence of speaking in tongues for years! And I finally started "imitating" what I heard to fit in, to be like my other brothers and sisters in Christ.
But, after a sister in Christ, who doesn't attend my church, shared with me many books and articles on the subject of tongues, I realized that I had been faking it for years. The main Book that convinced me I was in error was the Holy Bible! It is the ultimate authority and guide for my life.
And so, I guess it's been five years now, out of my 22 years of salvation, that I have not uttered the gibberish I had been spouting for years! I spoke to my pastors about it; they were kind and understanding and assured me that it was not a big deal if I didn't speak in tongues. I know that my salvation is not at all dependent on speaking in tongues, just as you wrote and I know from God's Word.
In Him,
Colleen
_________
I have actually heard this from more than one person. They will just fake it to "go along to get along."
John 12:42,43
Nevertheless among the chief rulers also many believed on him; but because of the Pharisees they did not confess him, lest they should be put out of the synagogue: For they loved the praise of men more than the praise of God.
A friend of mine told me years ago that he and one of his buddies were in a church one Sunday morning. It was a charismatic church. People would get up and go to the microphone to babble in gibberish. Then someone else would go up to the mic and interpret it. So his friend walked up to the microphone and started babbling away! Just totally making up stuff. Guess what happened? Someone walked up front and interpreted what he said!! Sadly, this is one of the many games going on in our churches that is never called out.
But not everyone who read the newsletters was happy with me!
I BELIEVE THAT THE GIFTS OF THE HOLY SPIRIT INCLUDE MIRACLES, SIGNS AND WONDERS AND SPEAKING IN OUR PRAYER LANGUAGE. I APPRECIATE ALL YOU DO FOR THE KINGDOM OF GOD, THE POWERFUL WRITING OF YOUR BOOKS, AND YOUR PASSION FOR LOST SOULS. HOWEVER, I BELIEVE THAT YOU, MARK, HAVE MISSED GOD ON THIS ONE. I PRAY THAT FATHER GOD, JESUS, AND HOLY SPIRIT BRING YOU TO A KNOWLEDGE OF THE TRUTH CONCERNING PRAYING IN TONGUES AND OUR PRAYER LANGUAGE. THERE IS A DIFFERENCE BETWEEN THE TWO. GOD BLESS YOU. PLEASE REMOVE ME FROM ALL FUTURE CORRESPONDENCE. I AM LOOKING FORWARD TO SPENDING ETERNITY WITH YOU! ―Don
____________
Always be careful of sending an entire email in all caps!! No need to do that. They are hard to read. And many people take that to mean the person is yelling at them.
One of the things I noticed with a lot of the responses we received, and especially Don's, was that they never included Scripture. They did not make their points using the Word of God. It always came down to their experience and what they believed was true.
Interestingly, we heard about a "prayer language" in the responses of others. However, the Bible does not teach praying in a prayer language or a private prayer language, as many understand it. They claim their "language" is coming from the Holy Spirit, but the Bible says the groans of the Holy Spirit cannot be uttered.
Romans 8:26
Likewise the Spirit also helpeth our infirmities: for we know not what we should pray for as we ought: but the Spirit itself maketh intercession for us with groanings which cannot be uttered.
When I wrote Don back, I ended my email to him with, "Take care, and have a blessed day." But he responded a second time and said the following:
I don't take care. I take RISKS! Against those who won't seek out the truth! But I love you because love never fails! After 40 years in prison ministry, and tens of thousands of inmates coming to know Jesus by the power of HOLY SPIRIT, I know that I am right! . . . By the way, have you had live rounds popping about two feet over your head? I have, years ago as an unbeliever in the US Army. O well, I love you brother. So I have decided to love you long distance for now. COMPLETELY UNSUBSCRIBE ME. LOVE YOU, MARK!  
P.S. Read John 14:26 IN THE AMPLIFIED TRANSLATION. HOLY SPIRIT IS YOUR HELPER! I won't be opening any reply, but that doesn't mean that I don't love you! I AIN'T SKEERED!
____________
At least I didn't get all caps this time! But where in the Bible does God ask us to take risks? He asks us to side with truth and to always be on the truth's side. Simple.
And what does getting shot at have to do with whether or not something is true? When people try to appeal to emotions, feelings, or past experiences, it shows they have lost the argument. Feelings do not trump facts, and they never will.
Years ago, Don sent me this video showing how "slaying in the spirit" is being used in a prison ministry situation. I let him know back then that this practice was unbiblical, and I let him know again last week that it is still unbiblical.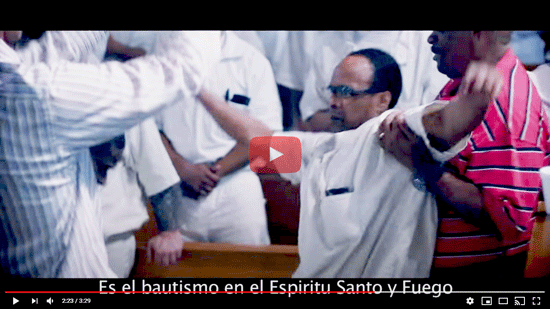 https://youtu.be/O9uDM8jwXi8?t=129
If you currently do any prison ministry work, then you know that many of the doors for prison ministry have been shut due to the overreaction to the virus. People can't get into prisons to minister. This is one reason why getting books into prisons is very important at this time.
Don also let me know that his ministry practices the "baptism of the spirit" with inmates. It is good that those prisoners won't be exposed to that false teaching for a while.
There are lots of great volunteers who work in the prisons. I firmly believe that in Heaven, some of the most well-rewarded people will be some of the folks who were soul winners in the prison systems around the world.
The fight for truth continues. Never forget, truth will always win out in the end.
Acts 17:11
These were more noble than those in Thessalonica, in that they received the word with all readiness of mind, and searched the scriptures daily, whether those things were so.
2 Timothy 2:15,16
Study to shew thyself approved unto God, a workman that needeth not to be ashamed, rightly dividing the word of truth. But shun profane and vain babblings: for they will increase unto more ungodliness.     
Until the Nets are Full,