The Fishermen's Club (2021) – Part 1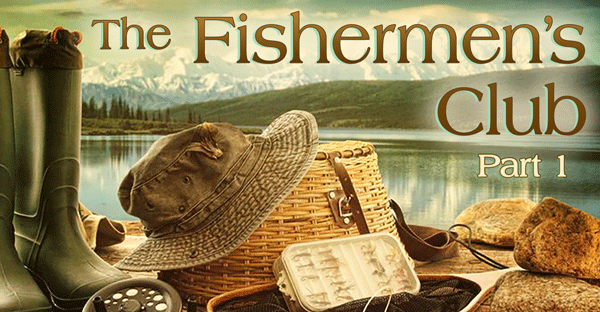 Since I don't wear a mask, I ran into a problem the other day. But whenever we have a problem, it's the opportunity for the Lord to come up with a solution. Kind of an easy way to look at life.
Someone sent me a package, and it was delivered to my PO Box. But you are required to wear a mask while you are at the Post Office. Of course, I have never worn a mask since all of this Covid stuff began. The last time I was there, the lady in charge gave me a hard time, so I have decided not to pop back in. I just went to my box at night or over the weekend to get my mail. But now, I had this package to pick up. So what was I going to do? Well, God always has the answer!
Every Sunday on my way to church, I stop by this one gas station to talk with the day laborers and give them some Christian materials and a blessing. It's become kind of a tradition. They look for me every Sunday! So, I went by the station on a weekday and picked up one of the guys who speaks English. I brought him to the Post Office with me, and he went inside to get my package.
Well, while he was in there, I stayed outside and handed tracts to people and gave away some books! One guy said, "Don't you play basketball or something? I was standing in line behind you a few months ago." We had a nice talk, and I was able to give him some books. A car drove by, and the driver rolled down the window and said, "Are you giving books away?" Well, they were from Ethiopia! So we got to talk about Jesus. They loved to read, so they took a few books.
Next thing you know, the Post Office door opens and my guy comes out with this huge box! Following behind him were three postal employees! He told me later that they asked, "Where is Mark?" I knew they would do that because he had my pickup slip, but he wasn't me, and they all know me in there. So, they came outside to chat with me! One lady said, "We sure do miss you coming in and seeing your smile and talking with us!"
Interestingly, I have a very average smile. It's not one of those smiles that lights up someone's entire face. I love those smiles! Mine is more of a smaller smile.. But it got me thinking: If you had a job where all you see is people in masks all day long, I bet every smile probably looks like one of those beaming smiles to you! I had a real nice talk with the employees outside for a few minutes before they had to go back in and take care of those masked-up customers.
Remember that masks don't work. And, just to prove it, now they are trying to tell people to wear two masks!! That means the single mask doesn't work. But this is where we are in society: One mask turns into two masks, and soon, you will need a vaccine to walk your dog in your neighborhood. And there will probably be a Bill Gates drone flying overhead monitoring you to make sure you have taken the vaccine!
Fight the system. The Communist Left is going to take us down a very bad road if we let them. And, as you fight for your rights, keep witnessing! Keep fishing! Everywhere you go, there are lost people who need the eternal seed you can plant in their lives.
Please enjoy Part 1 of this message I gave at a church up in Massachusetts. I think it will encourage you to be part of the Lord's Fisherman's Club.
https://www.youtube.com/watch?v=FZeza7PB0u4&feature=youtu.be
Remember to fish everywhere you go, wherever you go, every time you go.
Until the Nets are Full,

P.S. Remember to live by QEQE: Question Everything and Question Everybody.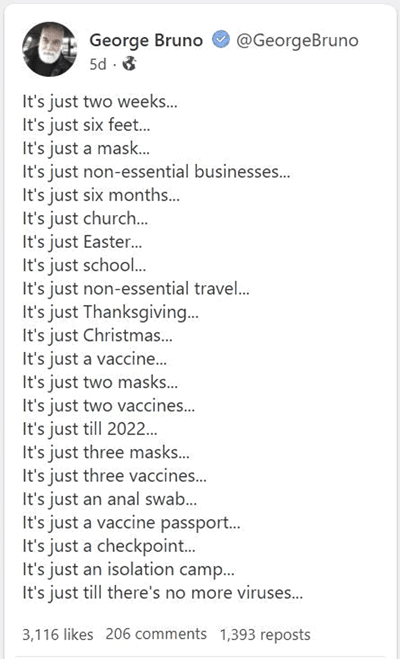 https://gab.com/GeorgeBruno/posts/105758392261151505