Stepping Out By Faith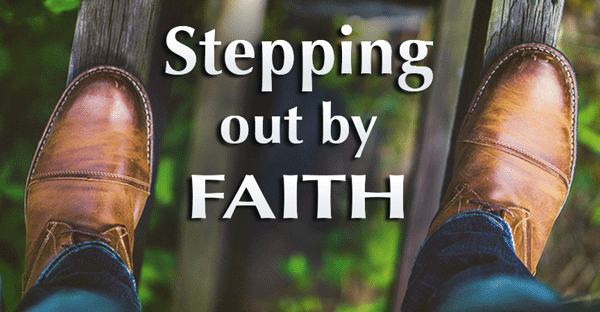 Have you ever been intimidated by someone who you knew the Lord wanted you to witness to? If you have ever stepped out in faith and obeyed the Lord, despite your fears, you likely found that the person you were witnessing to wasn't so scary after all!
Facing Your Fears
Recently, a friend of the ministry shared with us two different witnessing encounters. Don does a lot of "outreach" on college campuses through his ministry At the Well, where he engages students over the issue of abortion. This is a ministry that I personally and financially support. If you are out on the West Coast, hook up with him and his team sometime. He is a watchman for Christ everywhere he goes, as the stories below attest:
I was asked to take some high school students witnessing for an evening. So we met a few weeks ahead of the planned date to get some spiritual tools for the outreach.
Then the day came to travel to Old Sacramento and spend the evening sharing the gospel with folks who were hanging out on the old wooden planks of the boardwalk in that historic city. We were standing outside of the Rocky Mountain Chocolate Factory after getting some inspiration and looking over the landscape. All of us were a little intimidated by the crowds. The chocolate hadn't kicked in yet.  
I looked across the street and saw a bar with several motorcycles lined up along the front. There were some tough-looking characters gathered around those bikes as well.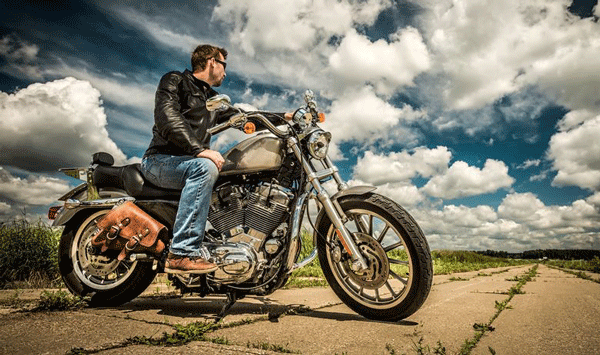 Then I remembered an evangelist, from a long time ago, who shared the different ways he would break through his hesitancy so he could start witnessing. He told us he would look for the toughest hombre in the room and witness to him first. Then, he said, the rest of the time would be easy.
So, I looked across the street and saw ten tough-looking hombres. What to do? I walked across the street and picked one of them, who I thought I could outrun, and approached him. I pulled out a small paperback book about Jesus and nicely asked that motorcycle dude, who seemed to grow larger the closer I got, if he liked to read. That's right: I asked a Hell's Angel-looking guy in full leathers with a growl on his face, "Do you like to read?" 
He grabbed me with his chains and dragged me behind his motorcycle around the streets of Old Sacramento till I promised to leave him alone and go to the hospital to recover from the street burns. Okay, that's not what really happened.
He looked at me and said, "No, I don't like to read, but my lady does." He called out to a couple of women nearby, who looked like they could rip my arms off if provoked. The women came over and said they loved to read and asked what the book was about. I'm in!
So I began to share the gospel. At some point, the women called out to some of the other leather-arrayed dudes and said, "Get over here and listen to this guy. You need to hear this." Now, I'm surrounded by several of them as they listened.
One of the teens from our witnessing group was standing across the street wondering if I'd given them a "next of kin" phone number if things got ugly.
One of the motorcycle dudes came up to me and said he liked to read and wanted one of my books. I pulled out another copy, gave it to him, and thanked them all for listening. Then another motorcycle guy in the back of the group gave me a "look of death" and told me to get lost cause he didn't want to hear anything about God. I again thanked the others for their time, and some of them thanked me as well.
As I walked away, I checked to make sure all my body parts were still attached and thanked the Lord for a good encounter. The rest of the evening of witnessing was a piece of cake, just like the evangelist said it would be.
________
Every Person Needs to Hear
When we step out in faith, God can open some amazing doors of opportunity! We might feel intimidated by someone or be afraid for other reasons, but we need to remember that every single person needs to hear the gospel, as Don's second story points out: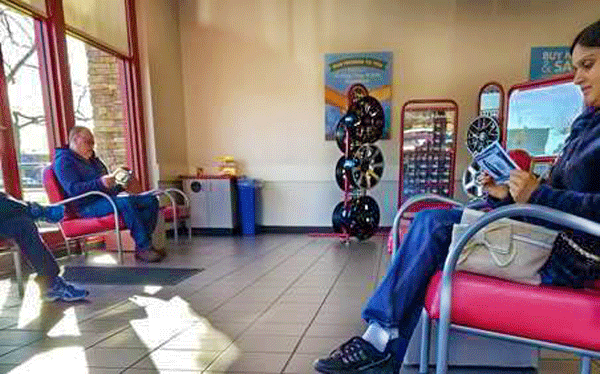 So I was in America's Tire store, waiting one morning. I brought tracts with me and planned my "seeding," as I went through the normal hesitancy and trepidation to start witnessing. While I was sitting there, I imagined the other six people waiting there hearing an angel call each by name to the Judgment Seat.
As the tire guy called out the first person there, I saw her get up and leave. Then I realized I hadn't given her a tract. She went out into eternity without my tract of hope. I wasn't going to let that happen to the rest of the people sitting there, so I got up, walked around, and gave each person a tract.
Only one person didn't read the gospel. All six of them were called by the tire guy, one at a time, and disappeared. So is eternity like this morning's moment?  I think yes.
Revelation 20:11-15
And I saw a great white throne, and him that sat on it, from whose face the earth and the heaven fled away… And I saw the dead, small and great, stand before God; and the books were opened: and another book was opened, which is the book of life: and the dead were judged out of those things which were written in the books…. And death and hell were cast into the lake of fire. This is the second death. And whosoever was not found written in the book of life was cast into the lake of fire.
________
Every person you meet has an appointment with death.
Hebrews 9:27
And as it is appointed unto men once to die, but after this the judgment:
We want to be warning every person that God puts in our path of the coming judgment. We want them to be prepared to stand before God. Don't let fear or anything else stop you from reaching them. Keep stepping out boldly for Christ every chance you get!
Until the Nets Are Full,

P.S.  William is a friend of the ministry who recently took these Christian Ukrainian students through a study of One Thing You Can't Do in Heaven.  They appreciated learning a lot of easy ways to reach people for the gospel. Hearing that 80 Ukrainians walk off into eternity every hour broke their heart.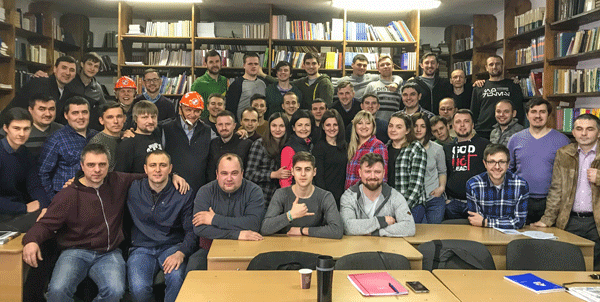 So he took them out into the "harvest field" to use what they had learned. After going through the book, they had no trouble keeping conversations going, even with atheists and agnostics. They appreciated learning simple ways to share their faith and were glad to put what they learned into practice.
You can pick up a copy of One Thing You Can't Do in Heaven at the link below: