Seeking Souls in Seattle
How bold are you in sharing the gospel during these interesting times? Are you stepping out of your comfort zone and right into God's comfort zone?
Please read what some friends of the ministry have been up to during these crazy days.
Mark,     
     I thought we would update you on our Seattle trip, since you were a big part of it. We packed a case of Bibles and about 35 of your One Second After You Die booklets in our carry-ons and shipped one case of Bibles to the hotel.
     We made reservations and pre-paid back in September and received a lot of criticism from our peers about going into the "hot zone" of the virus. We were warned that we might not be able to get back home.
    Our decision to go anyway was reinforced when TSA ran my carry-on through their machine twice. Then the young agent asked us if those were KJV Bibles in my bag. When we said, "Yes," he said he would be praying for our mission trip. That confirmed to us that we were on the right path.
     We arrived at the Sea-Tac airport thinking that not much was different except the numbers of people were notably diminished. When we arrived at our downtown hotel, the gate was drawn and locked. The manager informed us they would be closing in two days but they would allow us to stay since we had pre-paid. We were the only guests in the hotel that week.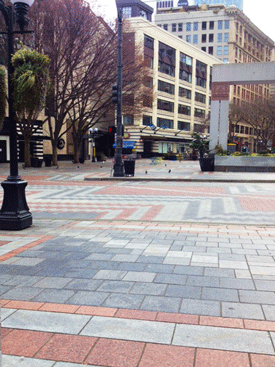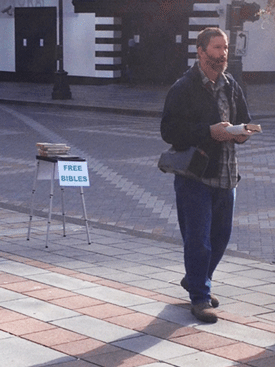 Nearly 6,500 homeless are on the streets with no public restrooms and no tourists to panhandle from now. You can imagine the conditions. We were blessed to have five days on the street before the "shelter-in-place" mandate was put into place. 
     Not many people were on the streets, however, we were able to give away 48 Bibles and 33 One Second After You Die booklets in four days. There was the usual heckling, but many people were more open and sober because of the times we are living in now.
     Something interesting happened our first day on the streets. Pat was street preaching when a BIG guy showed up with a microphone and small bullhorn to mock his preaching. Suddenly, from out of nowhere, a young man with a black mask ran after that guy, pushed him down on the street, grabbed his microphone, and threw it violently against a building where it was shattered. He walked off, but the police apprehended him and let him go soon afterward. It all happened very quickly. At first, we thought it was an angel. However, we think it might have just been the politics of street people. We were rescued by that stranger, and it was a testimony to the Lord's covering over us! Several similar incidents also happened that made this trip unique and very special. It was a confirmation to us that we were following the Lord's will.
     These are exciting times indeed, and they will keep all of us on our toes! Thank you for being such a good mentor and faithful servant! We will see you one day soon! We trust you remain uplifted in prayer!
Blessings,
Sharon and Pat
__________
Luke 2:49
And he said unto them, How is it that ye sought me? wist ye not that I must be about my Father's business?
1 Corinthians 9:16
For though I preach the gospel, I have nothing to glory of: for necessity is laid upon me; yea, woe is unto me, if I preach not the gospel!
     Pat and Sharon consider these mission trips to be business trips for the Lord. They are also reaching the lost on the streets back home. How about you? Are you reaching the people in your town and wherever you travel for Christ? The time is now to be bold in reaching the lost. Now.
Until the Nets are Full,

P.S. Pat and Sharon not only send supplies to their hotels ahead of time, but they also order materials in the middle of their trip if they begin to run low. They want to be ready to give out books to those who need them. Praise the Lord for the Christians who gave books to these lost souls!
     Make sure you are stocked up and giving books to people during these days. They have the time to read. I have found people very receptive to taking a book over the last two weeks. Just ask them, "Do you like to read?" and see where it goes from there.