Reading is Fundamental – Part 2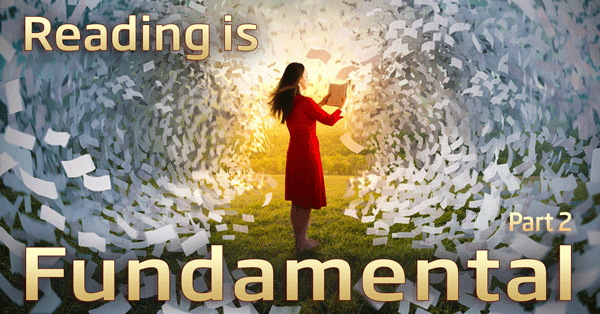 A few weeks ago, we mentioned in Reading is Fundamental – Part 1 how reading is essential to growth in the Christian life. We also stressed the importance of spending time reading and studying our Bibles, so we can know the truth.
Reading is a must for all followers of Jesus Christ. We have to stay up-to-date with what is going on and know our Bibles better and better to understand the times we live in and discern them correctly.
To stay in touch with the reality of life, we need to read large amounts of information about a variety of subjects, including literature, politics, history, health, science, and other issues that affect our world. Paul was an educated man who had a love of learning and reading, which we catch a glimpse of when he tells Timothy to bring not only the books, but also the parchments:
2 Timothy 4:13
The cloke that I left at Troas with Carpus, when thou comest, bring with thee, and the books, but especially the parchments.
One newsletter I receive regularly is by The Berean Call (https://www.thebereancall.org). This ministry was founded by Dave Hunt, who has since gone to be with the Lord. He started the ministry in the 1980s to equip Christians to identify the worldly trends of the day. The Berean Call addresses a variety of issues, which you can see if you click on their website's "Topics" page. They provide help for defending the faith when it comes to subjects like Creation vs. Evolution, Catholicism and other religions, End-Times teachings, Calvinism, and more. (https://www.thebereancall.org/topics)
I didn't have the chance to meet Dave Hunt while he was down here, but I very much look forward to the day when I will meet him up in Heaven. He was a true, faithful soldier of the Lord Jesus Christ. I have enjoyed many of the materials he left behind. They are not only great to read but are good resources to give away to others as well.
Acts 17:11
These were more noble than those in Thessalonica, in that they received the word with all readiness of mind, and searched the scriptures daily, whether those things were so.
His ministry takes its name from the Bereans in Acts 17, who searched the Scriptures daily. In fact, Dave Hunt was a committed reader and student of the Bible as this following excerpt reveals: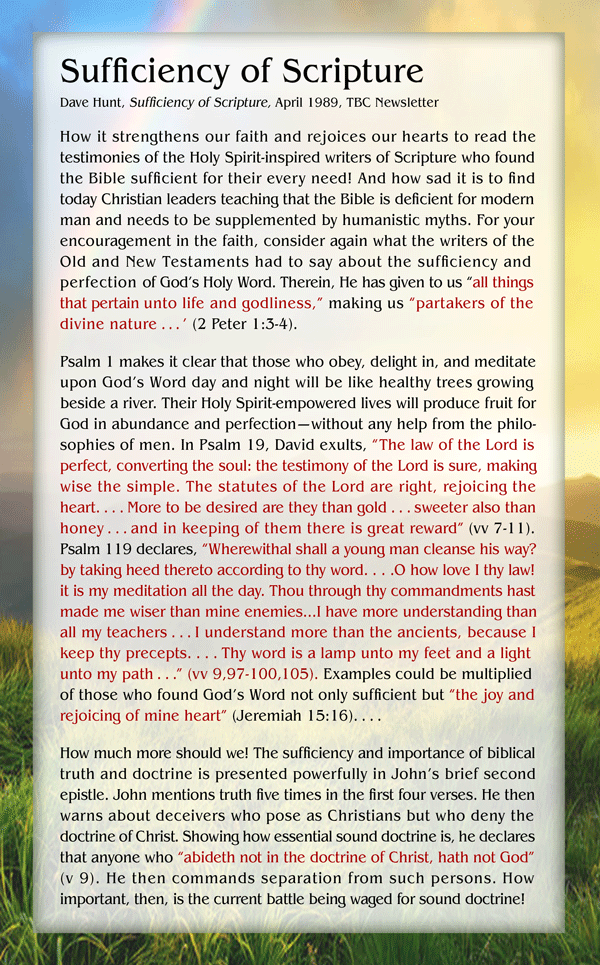 https://www.thebereancall.org/content/sufficiency-scripture
The Berean Call also receives letters from readers who express how much they appreciate their stand for truth: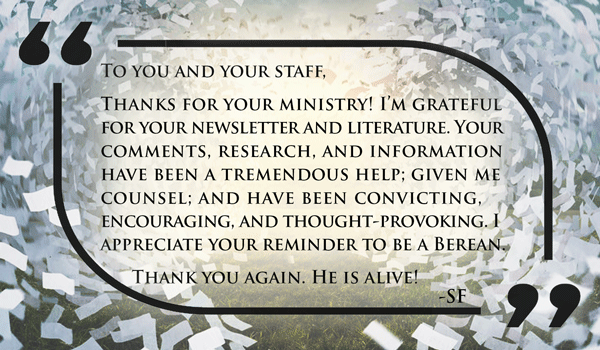 The Berean Call ministry and newsletter are excellent discernment resources. If you haven't already checked them out, be sure you do so at:Â https://www.thebereancall.org
In closing, remember that we need to read, but we also need to sift. We need information, but we also need to discern. Our job is to know the truth right down to the last jot and tittle, so we won't be taken in by untruths lurking in well-meaning places or taught to us by well-meaning teachers. We want to study so we can know, love, and fellowship with the Lord in truth.
Until the nets are full,