Reading & Giving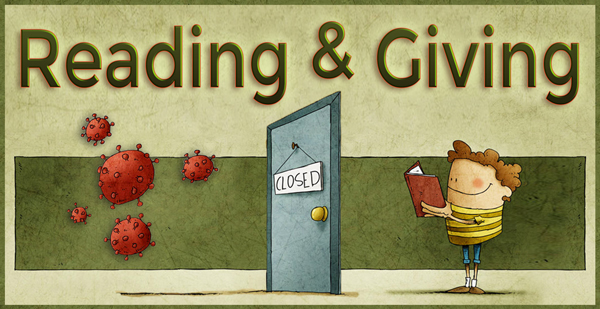 As the nation takes measures to stem the tide of the Coronavirus, people everywhere are finding themselves with extra time on their hands. It is a great opportunity to suggest they read the Bible since many of them are working from home, out of school, or out of work. Just ask them if they will do that. Encourage them to read God's Word.
However, some might not know where to start reading or how to understand what the Bible is saying, which is one reason why the Lord wants us to talk to people and help them. Giving them materials that explain truth is also a great way for them to get started, especially now when many are homebound.
2 Corinthians 5:20
Now then we are ambassadors for Christ, as though God did beseech you by us: we pray you in Christ's stead, be ye reconciled to God.
We just received this note from Jo Anna, a lady who has spent her entire lifetime working hard to serve the Lord. Today, she helps those who are confined in prison to understand the gospel as well as those on the outside:
Hi, Mark!!! 
Got a message for you from Will. Will does not read well because he left school in the seventh or eighth grade and didn't finish his education. When he was ready, I gave him One Thing You Can't Do in Heaven. Here are two replies from him about the book:
"I forgot to tell you, I'm halfway through Mark's book, One Thing You Can't Do in Heaven. What a good book. I don't read much, but I just can't put it down! Awesome."
"I am going to tell Mark how awesome this book is; I mean, I'm really hooked. And yes, I am ready for the other books you mentioned, but only if Mark wrote them! Wow!! So glad I'm saved and reading like this. Never did it before!"  
He is one happy new believer!!  Second Corinthians 5:17 really describes his life! Boy, I LOVE seeing someone happy in Jesus!!! 
In Jesus,
Jo Anna
So, to assist you in your witnessing strategies to help people understand the gospel, we are lowering the suggested donation for some of our bundles and for our single books. The Seven-Book bundle is now $28 (normally $60), the Fiction bundle is $12 (a $39 value), and the Non-Fiction bundle is $16 (a $57 value). These bundles work out to $4 per book. If you order single books instead, each title is now $5 per individual book. This way, you will be able to spread a lot of truth in your neighborhoods, families, and communities during this difficult time. Click on the link below to pick up materials, so you can flood your area with more and more truth.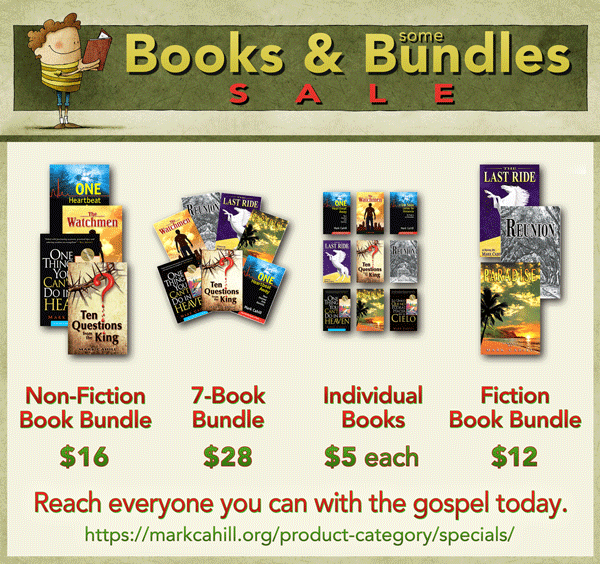 https://markcahill.org/product-category/specials/
People's ears are more attuned to listening to the gospel during this health crisis. I have found people to be very, very open these last couple of weeks as I have had conversations with them about life, death, eternity, and Jesus.
The Coronavirus is a temporary setback for some; for others, it might be worse. The trials of this life are momentary, but eternity is forever. Everyone must be ready, and the Lord is calling us to warn people while we still have time to reach them.
Until the Nets are Full,

P.S. Keep pointing them to the eternal truth that can save their souls. No one living through these days of quarantine will be able to stand before God and say they didn't have time to read His words.