Peace I Give You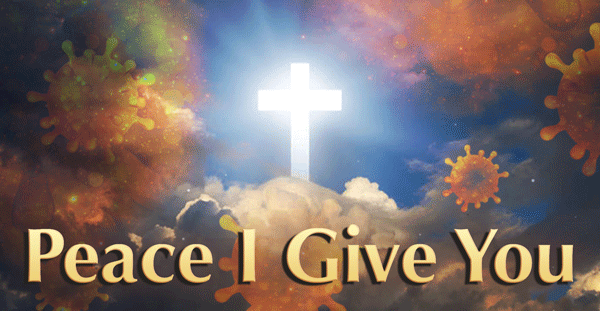 Deuteronomy 31:6
Be strong and of a good courage, fear not . . .
Psalms 34:4
I sought the LORD, and he heard me, and delivered me from all my fears.
Psalms 56:3-4
What time I am afraid, I will trust in thee.
Psalm 91:14-15
Because he hath set his love upon me, therefore will I deliver him . . . I will be with him in trouble; I will deliver him, and honour him.
Psalm 145:18
The LORD is nigh unto all them that call upon him, to all that call upon him in truth.
Proverbs 29:25
The fear of man bringeth a snare: but whoso putteth his trust in the LORD shall be safe.
Isaiah 41:10
Fear thou not; for I am with thee: be not dismayed; for I am thy God: I will strengthen thee; yea, I will help thee; yea, I will uphold thee with the right hand of my righteousness.
John 14:18
I will not leave you comfortless: I will come to you. 
John 14:27
Peace I leave with you, my peace I give unto you: not as the world giveth, give I unto you. Let not your heart be troubled, neither let it be afraid.
Romans 8:15
For ye have not received the spirit of bondage again to fear . . .
Philippians 4:6
Be careful for nothing; but in every thing by prayer and supplication with thanksgiving let your requests be made known unto God.
2 Timothy 1:7
For God hath not given us the spirit of fear; but of power, and of love, and of a sound mind.
1 John 4:18
There is no fear in love; but perfect love casteth out fear: because fear hath torment. He that feareth is not made perfect in love.
______________
Until the Nets are Full,

P.S. One man sent in these pictures to show how he's been studying, journaling about, and dog-earing the pages of One Thing You Can't Do in Heaven to get prepared to reach the lost. Ray wants to be ready to go when he hits the streets!  Praise the Lord!
If you want to get prepared to give answers to the people you encounter as well, we can help! Since you folks have liked this book special, it is probably good to keep it going during these interesting times. We need to be giving each other and many others all the hope we can!
Did you know that some seminaries have used One Thing You Can't Do in Heaven to teach seminarians how to prepare their people for works of service in evangelism? We also know of homeschool groups that have used our books, and since many of your kids or grandkids are home now, it would be a good time for them to read them as well.
Check out the books on our website, which are currently being offered at a significantly reduced Suggested Donation. Prepare yourself with materials to study, give out, or send to others. You can also send materials to others by mail through our website. Just click on the link below and keep going strong for the Lord!