Over 900,000 in Print & Counting!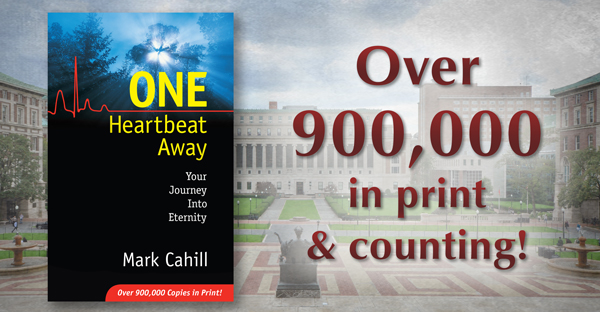 Lots of people wonder about eternity, which means simple conversations can turn into much more than we expect once truth is put on the table. And the Lord places us in those moments to speak the truth of the gospel into the lives of the lost so they can believe while they still have time.
     Speaking of time, here's a story of a man who had very little time to get his eternal questions answered. A friend of the ministry had this encounter with him and shared it with us: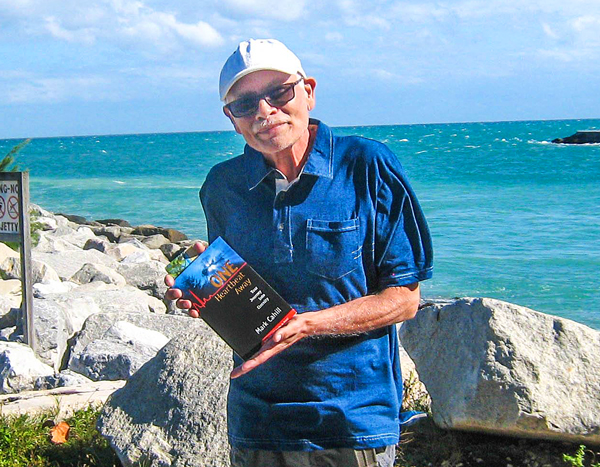 Vern and his wife, Marcella, were in Florida visiting their daughter, son-in-law, and new baby. They were standing along the waterway under the trees talking when I approached them with tracts. Something seemed a little off and tense, but I tried engaging them in conversation anyway. Vern could barely speak, and Marcella wasn't very interested.  
Everyone walked away, excerpt Vern. He stayed behind to talk, even though his voice was very raspy. He said he thought he would be reincarnated when he died. I asked him how he knew that to be true. He drew a blank. So I explained why reincarnation couldn't be true and added, "You have to place your faith in Jesus for the removal of your sins; otherwise, you will be judged for them. Through faith in Christ, you can be forgiven and cleansed of everything you've ever done wrong and go to Heaven when you die."
Vern's face brightened big time. He had been raised Catholic and thought he could never know if he was going to Heaven. So I compared some of the false teachings of Catholicism to the Bible and then asked if he had any other Bible besides a Catholic Bible. He didn't, so I asked for his address to send him one. I was also down to my last Heartbeat book, which I wanted to send him, too.
Then Vern answered, "We've recently gone homeless, and I only have a post office box. We're from Seattle and are just visiting. And I can't remember my address." I thought that was kind of odd, so I asked if his daughter was going to take in him and his wife." He said, "We hope so. It's part of the reason for our visit and part of what we've been discussing here today. We had free plane tickets to get to Florida, but we have no way to get back home." Then I asked why it was so hard for him to talk. He explained, "I've worked industrial jobs my whole life. My lungs are failing, my liver has failed, and I have only a few weeks to live."
Blown away by that piece of information, I took my last Heartbeat book and marked with extra tracts the pages he needed to read right away. I said, "Vern, you have to read these pages tonight. Read them first, and then, you can start the book from the beginning. You need to spend all your energy reading this so you know for sure how to be saved. Take the Scriptures in it to heart. You need to come to the cross, repent, and believe so you can get to Heaven safely."  Vern was extremely thankful and promised he would read those pages that night. 
I was almost out of time, too. It was my last day in Florida, and I almost didn't make it to the beach to witness. But God had other plans. He wanted to reach Vern with the gospel in the nick of time. His heart was wide open to truth!
___________
We never know how many heartbeats away from eternity someone might be. Our job is to be faithful to give them the gospel, and let God bring the increase. It will be exciting in Heaven to see what God has done with our witnessing and see who is there because we took the time to talk to them.
Until the Nets are Full,


P.S. One Heartbeat Away has equipped hundreds of thousands of people with clear, strong answers for the Christian faith. It addresses eternal questions such as: Is there a God? Is the Bible true? Is evolution true? How can I be at peace with God? And what should I do with the life I've been given?
This man found this book to be pivotal in moving him to believe the gospel: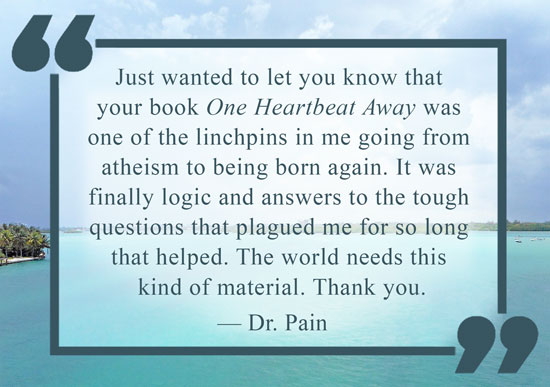 People want these answers and the Lord has entrusted you to help provide them. So to help you get ready to reach them, we are offering One Heartbeat Away at a discounted suggested donation of $80 for a bundle of 18 copies and $200 for a case of 44 books. You can pick them up through Labor Day at the link below: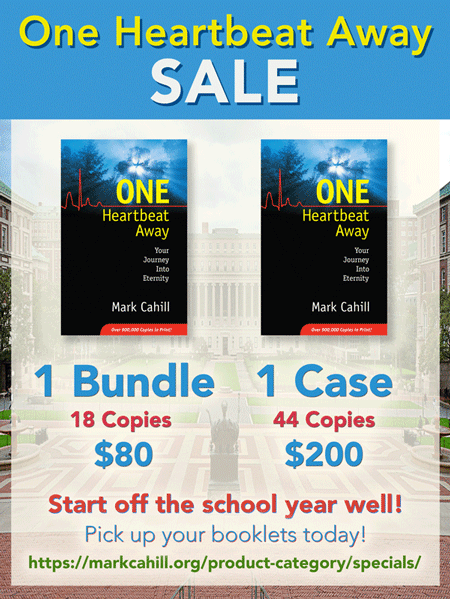 https://markcahill.org/product-category/specials/