How Is Your Lockdown Going?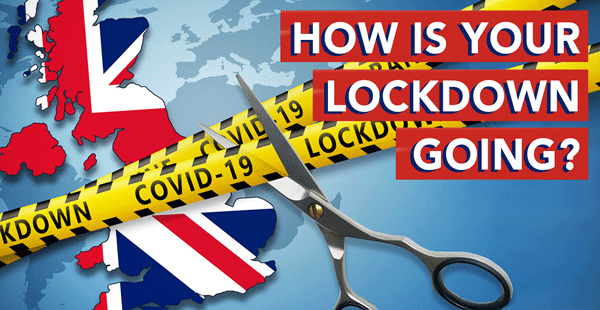 The United Kingdom is now in their second lockdown. We heard from a friend of the ministry, Kristina, who lives in the UK and gave us an update about how some Christians are handling it there. She said:
Beginning today, the second national lockdown started in the UK. One Korean pastor did door-to-door evangelism with his church members and distributed 700 Chick tracts today.
He said the people who opened the door looked delighted to see them (the evangelists) and also looked very much worn out because of the tough life under the pandemic.
Since the first national lockdown, there are so many local churches that are still closed, and many evangelical organizations have stopped reaching out to lost souls in order to keep the restrictions of the government in the UK.
But some "diaspora" evangelists never stop spreading the gospel or proclaiming the impending Judgment Day.
Hmmm. Interesting. They are in lockdown, but the Korean pastor and his team are going door to door to share the gospel.
Kristina also stated about herself:
Around 4 p.m., I went to the Wimbledon area with a bag full of tracts. I started to put tracts in houses or flats and prayed for their salvation. I had the chance to share the Gospel verbally with three groups of teenagers.
1. A girl with Afghanistan and Pakistan parents concentrated on what I presented. So I asked, "Are you Muslim?" She said, "Yes." Truth was planted in her soul today. One day, in God's timing, her faith may sprout.
2. Four teenage boys ― I gave cartoon tracts out to them and briefly shared the Good News with them. They listened and went away with a tract.
3. On my way back to my house, I bumped into two girls who are my neighbors. Their parents are English. There are twelve children altogether and one more in her mother's womb. Me and my husband have been trying to lead them to church and have given them many Chick tracts, but we can't see any fruit. When I asked them if they had read the Chick tracts, they shrugged their shoulders. So, I started to share about Jesus clearly as I walked along the road with them. Amazingly, one girl, Tanna, opened her heart and said, "I do believe Jesus died for my sins." How joyful I was to hear that!
Acts 1:8
But ye shall receive power, after that the Holy Ghost is come upon you: and ye shall be witnesses unto me both in Jerusalem, and in all Judaea, and in Samaria, and unto the uttermost part of the earth.
     So, how is your lockdown looking? And, by the way, if you are not in a lockdown, what is holding you back from taking the truth about Jesus Christ to the highways, the byways, and to the ends of the earth?
Until the Nets are Full,

P.S.  We are being lied to. Big time.