Booklet – Reviews
---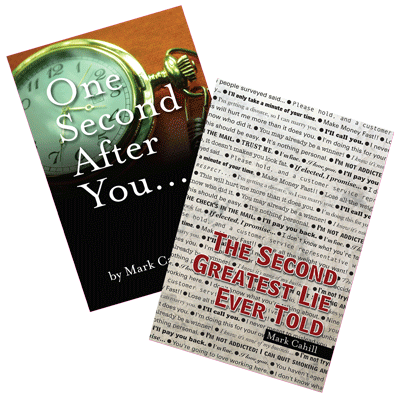 "I just finished reading your booklet One Second After You…Â WOW! Best gospel piece I've EVER read!"
— John P.
---
"I just wanted to encourage you that both of these two booklets blessed be tremendously in my faith last year right after I came to faith. My unbelieving girlfriend at the time had actually had taken them out of a community book box to give to me! The Lord has used you in my walk, and I am thankful for that."
— Benjamin P.
---
"I just flew with a pilot that I had given material to three years ago. He told me that his favorite of all the material I gave him was The Second Greatest Lie!
— Shannon D.
---
"Thank you, Mark. Next to the Bible, this book One Second After You. . . gives, in simple terms, the most compelling reason one needs Jesus Christ as their Lord and Savior."
— Wayne H.
---
"An outstanding resource in reaching the lost with the gospel."
— Steve A.
---
"This is a great booklet! It makes a great gift, especially for someone does not know Jesus (yet)."
— Doug E.
---
"We got lots of The Second Greatest Lie booklet two years ago, but now we need more!!! It is my absolute favorite tract in the world to give out. I have gotten into so many conversations as a result!!"
— Mirren M.
---
"I was able to travel to India and asked the church to be praying that I would have the opportunity to witness. I am thankful for The Second Greatest Lie Ever Told because I used it in preparing my testimony here and a message I preached while in India. Catholicism, Hinduism, and Islam are all prevalent where I was teaching. Thanks for your writing ministry. It helped me immensely, and more importantly than that, I believe your writing will be used of the Lord to further His work on this earth."
— Dan A.
---
"The best foundational booklet about salvation that I have read." (One Second After You…Die)
— Roger F.
---
"My husband was given One Second After You . . . and it made a profound impact on his thinking. The doctors couldn't understand how he was still alive, let alone lucid. You see, the lung cancer had spread to both sides of his brain. He gave his life to the Lord just days before he died. God is mighty, and I thank Him for you and your ministry. Bless you."
— Lauri M.
---
"One of the best booklets I have ever had the privilege of being able to pass out!"
— Joshua M.
---
"Your booklets are awesome! I need to get more of these particular ones, too! I would have loved to have had this info before coming to Christ because I had so many questions! Thanks Mark!"
— Sean A.
---
"Mark, I sure do have a lot of faith in this little booklet, One Second After You . . . ! I haven't seen one out there any better! I have given them to all kinds of people: lawyers, homeless people, poor, rich, judges, family members, etc."
— Jim B.
---
"It's time to order more of these great booklets. I sent one to my cousin in Maryland. She came to the LORD on 12/27!!! God bless you, Brother"
— Ann G.
---
"Love your booklets! I give them out at Maxwell AFB, where I work, to all I talk with, including prisoners working the grounds. I also will be visiting Auburn University Montgomery to speak with the Muslims and with my next door neighbor, who is from Pakistan, who wants some help. Again, I love your booklets; they get to the point and are affordable."
— Ronald B.
---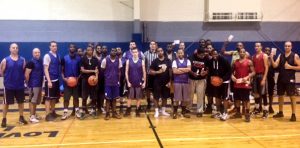 "Just finished an 8-week season with 30+ lost men who heard about the 2nd greatest lie ever told on the final night. They were very respectful to listen to me as I shared the gospel with them and almost all of them gladly took a copy of The Second Greatest Lie Ever Told (and a Gatorade) on their way out of the gym! What an honor and privilege to preach the gospel of Jesus Christ to lost men on a basketball court."
— Dan A.
---